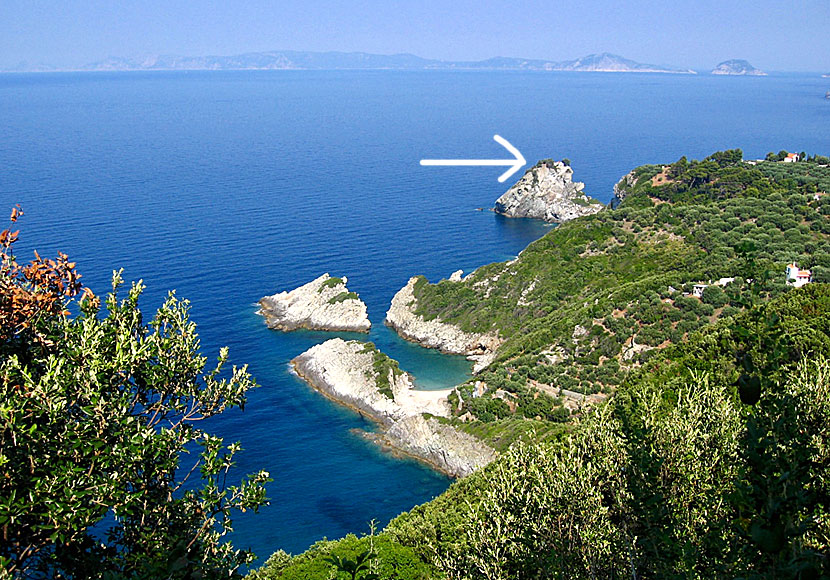 The rock where the final scenes in Mamma Mia was filmed. (See arrow.)
A big film crew visited Skopelos in the summer of 2007 to make a film version of the musical of Mamma Mia. Pierce Brosnan, Meryl Streep and Stellan Skarsgård starred in the film. The movie had its world premiere in August 2008 and was a huge success worldwide, not least in Sweden.
The movie has certainly put Skopelos on the map and more and more are travelling there with curious mind. It is not so noticeable on the island that the movie was produced there. There is one cafe called Mamma Mia, there are information signs at the filming locations, and there are photos from the movie outside the City Hall. More than that, there is not.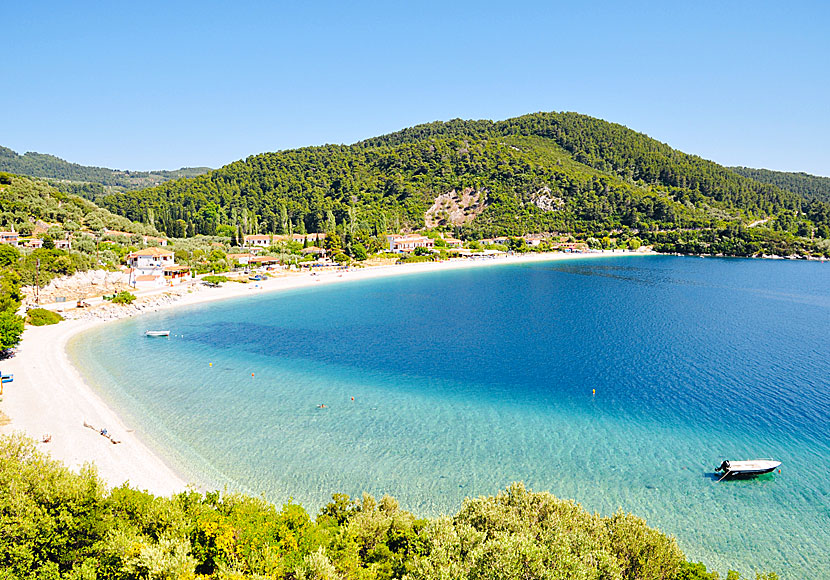 Panormos is Skopelos second largest tourist resort after Skopelos town.
Before I came to Skopelos for the first time, I did not know much about the island. I had not prepared myself so much, what I knew was that the island was beautiful and Skopelos Town was pretty. It sounded good. And it turned out to be true. We arrived at Skopelos Town early one morning in June, the ferry glided slowly into a glassy port, the sun was rising and the air was balmy. The early morning sunlight got the town to shimmer, a shimmer that was reflected in the water (see picture at the top). It was incredibly beautiful and very welcoming.
We were met by one room owners in the port that offered rooms at different places in the town, but we said no (which we should not have done) and went tired and hungry to find somewhere where we could eat breakfast. Besides one kafenion, there was only one place open at the waterfront. We ordered coffee and yogurt with fruit and honey.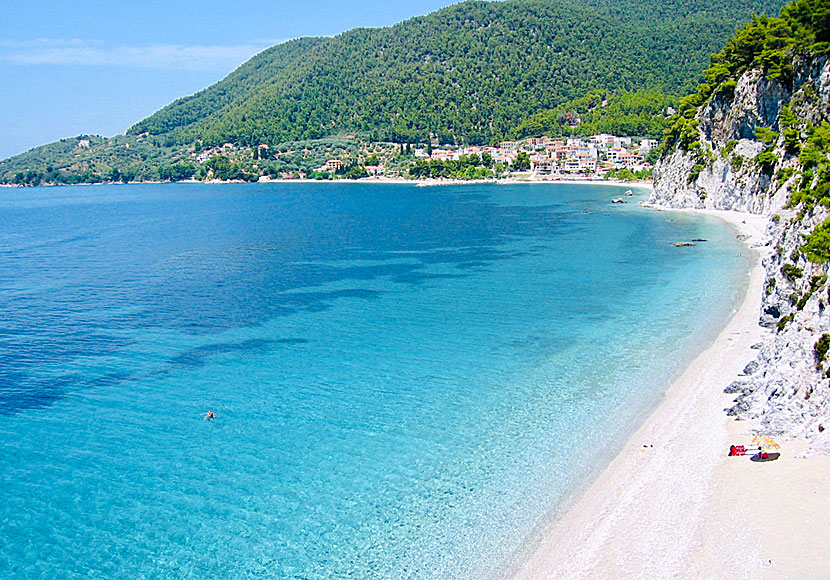 One of my favorite beaches on Skopelos is Hovolo.
While we waited for our order, I took a little stroll along the waterfront, and after a few minutes I felt that Skopelos would become a new favourite island. And it only got better the longer we stayed. Just as it should be when you are newly in love. The love was still there when we returned to Skopelos the next time, and not only that, it had also grown.
The thing I like the most about Skopelos might be the fabulous beaches, there are everything from sandy beaches to pebble beaches, and many of them are set in spectacular and beautiful surroundings. And the water! This absolutely stunning Skopelos water! As much as I have bathed at Skopelos, I have not done since I was a child. You never want to get out of the water. My favourite beaches are Limnonari and Hovolo.