You can read more about Amorgos via the links at the enda of this page.
A short summary of the information comes here:
Getting here is easy. It is best to fly to Santorini and then go on by speedboat directly to Amorgos. If there are no speadboat from Santorini, go on by ferry to Naxos and change ferry there to Amorgos. The small car ferry Express Skopelitis operates between Naxos and Amorgos almost every day during the season. You can also fly to Athens and go on by ferry to Amorgos from Athens' port at Piraeus.
I have good cause to say that all the villages on Amorgos are interesting, this is one of the reasons I like the island so much. Two of the villages are on the coast: Katapola and Aegiali. The rest of the villages - Chora, Potamos, Langada, Tholaria, Vroutsi and Arkesini - are in the mountains.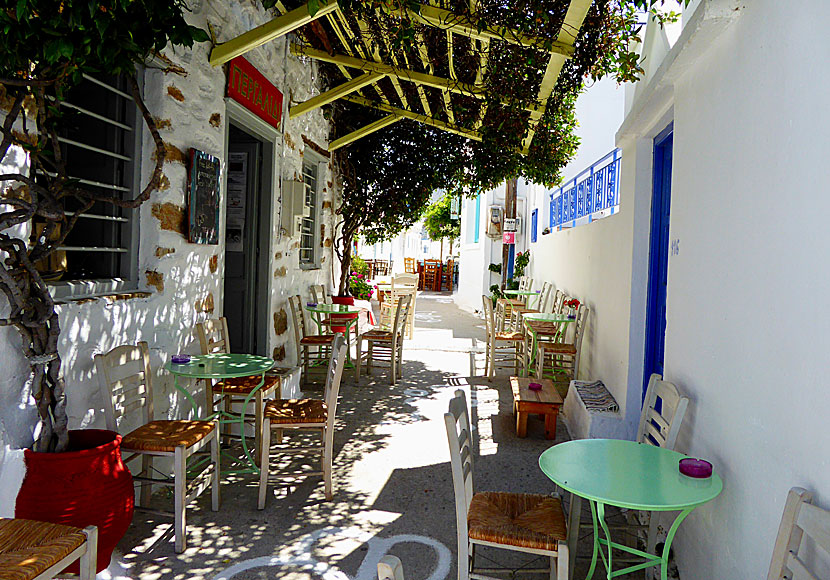 One of many cozy alleys in Langada above Aegiali.
Amorgos is not a beach paradise, and it is something of a paradox, because popular islands usually have nice beaches to attract visitors. But not Amorgos. Off course there are nice beaches as well, like Aegiali beach (see photo on top), Maltezi beach and Levrossos beach. Most people who travel to Amorgos seems to prefer to swim off the rocks, which Agia Anna, Mouros, Plakes and Amoudi are examples of. Agios Pavlos is a pebble beach which is not bad.
To me Amorgos is a great sight in itself. The beautiful scenery, the scenic and dramatic mountains, the picturesque villages, the fabulous hiking trails and the prevailing stillness is enough. Amorgos also offers other sights, like the monastery of Panagia Hozoviotissa, Profitis Ilias, Ancient Arkesini, Minoa, the shipwreck of the Olympia, the monastery of Agios Theologos and Asfondilitis.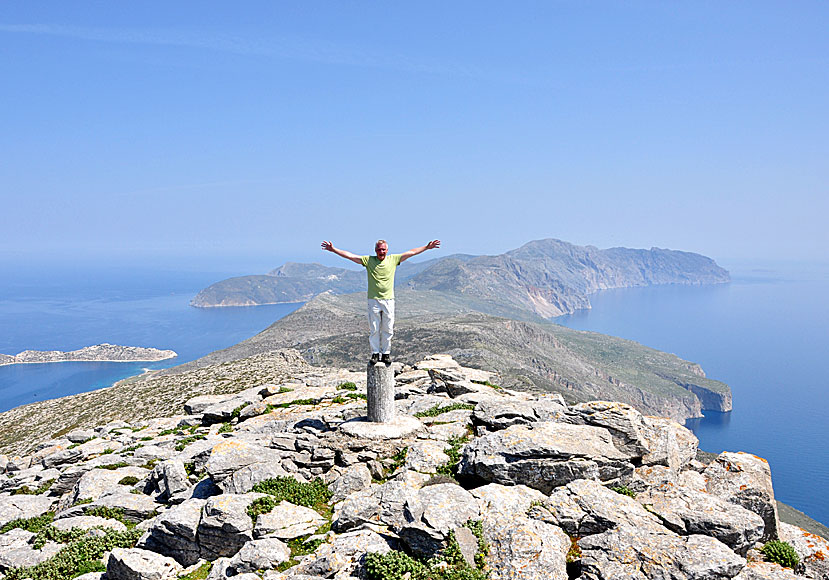 Don't miss Profitis Elias, wich you can read about here »
Before travelling to Amorgos you should decide which village to stay in. The opinion is divided of which village that is the best to stay in. Some prefer Katapola, while others favour Aegiali (where the best beaches are). If you have trouble making up your mind, you can stay a few nights in Katapola and some in Aegiali. Pensions are available in most of the villages on the island, so if you want to stay in a mountain village rather than on the coast, you can do it.