You can read more about Tilos via the links at the end of this page. A short summary of the information comes here:
It is possible to go on a package holiday from some countries. Check with a tour operator in your country. Most likely, the air plane will land in Rhodes, then it is a short sea voyage to Tilos. Of course, it is as easy to just buy a airline ticket to Rhodes, continue by catamaran and arrange the accommodation yourself. The catamaran Sea Star ply the route Rhodes-Tilos almost every day during the summer.
Livadia and Megalo Chorio is the only two inhabited villages on Tilos. Almost all tourists stays in Livadia, largely thanks to that the most popular beach and all facilities, lies there. There are also two uninhabited villages named Mikro Chorio and Ghera.
The beaches of Tilos are of good quality. Almost all are pebbly, some are mixed with sand and gravel. The most popular are Livadia beach (see photo on top), Lethra and Eristos. Other beaches are Skafi, Agios Antonios, Plaka and Tholos. My personal favourite beach is Lethra, not at least for the beautiful hike there.
For me, Tilos is a sight in itself. Somehow, nothing more is needed. But there is definitely no lack of sights. Mikro Chorio is a must. Like the monastery of Agios Panteleimon, not at least for the dramatic stretch of road leading to the monastery. The sunrise is also worth seeing. Something you definitely should not miss is the little elephant museum in Megalo Chorio. For those who enjoy bird watching, Tilos is a place of the highest dignity.
There are plenty of hotels and pensions on Tilos for being such a small island. Most are of good standard, and almost all lies close to the water. Most people choose to stay in Livadia, but there are also hotels at Eristos beach.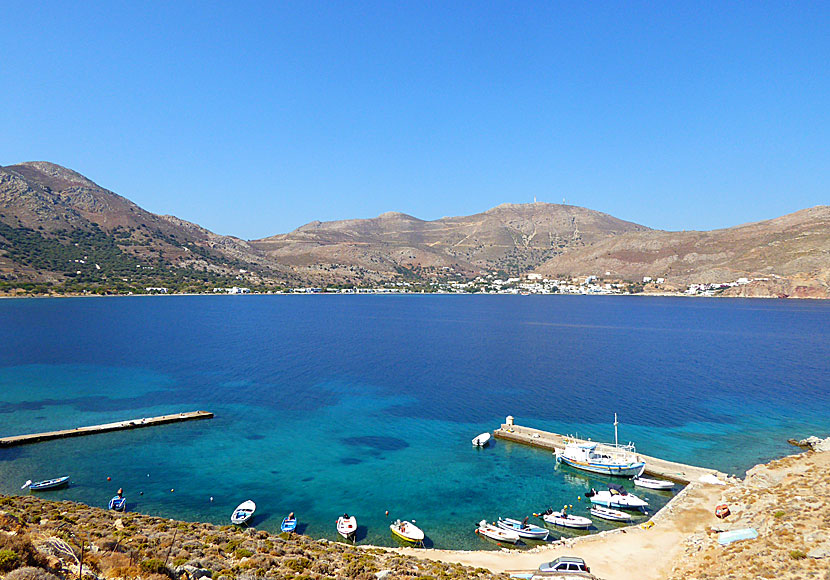 View of Livadia from the small port of Agios Stefanos.