You can read more about Sifnos via the links at the end of this page. A short summery of the information comes here:
Getting here is easy, even if you are travelling independently. The easiest way is to go by air to Athens and continue by ferry from Piraeus. The second best option is to fly to Santorini. Busses ply on Kamares, Apollonia, Faros, Vathy, Platys Gialos and Kastro. Scooter and car hire places in the major tourist resorts.
Sifnos can boast about several of nice villages, one of them - Kastro - is absolutely on my top list. Another of my favourites is the beautiful seaside village of Heronissos at the far north, and little Faros (see picture at the top of this page). Other villages are Apollonia, Kamares, Vathy, Artemonas and Platys Gialos.
There are many nice beaches and there is something for all tastes. The most popular beaches are in Vathy, Platys Gialos and Kamares. In Faros are two small children-friendly beaches. Not far away is the nice Apokofto beach. There are also several nice bathing-places with rocks, Efta Martyres and Chrisopigi are the best.
The most important sight on Sifnos is the village of Kastro. However, the island's pride is the small monastery of Chrisopigi near Faros. Other sights include the archaeological excavations at the church of Agios Andreas, and the many pottery workshops. Sifnos is actually famous throughout Greece for its pottery.
The selection of hotels and pensions are big, and the standard is generally very good. During certain months of the year it can be difficult to find a place to stay if you have not pre-booked. Advance booking is recommended.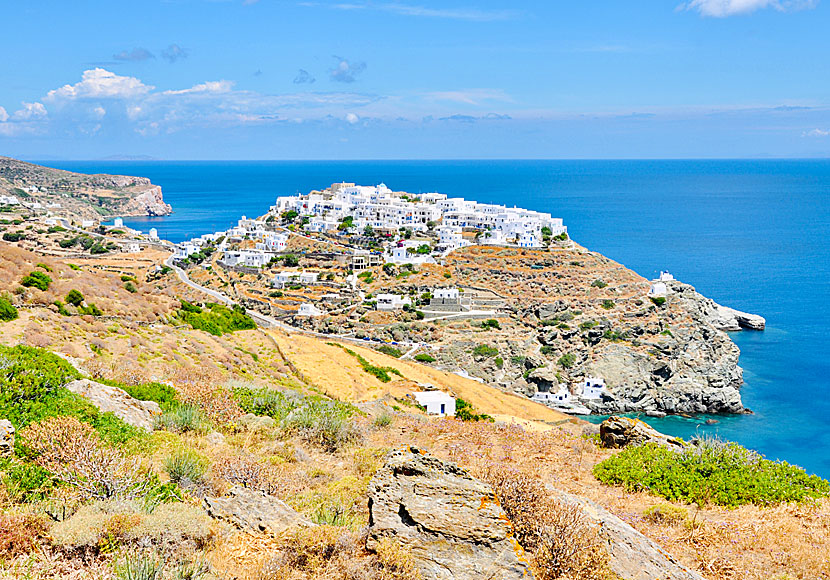 Kastro in Sifnos.
Kastro is one of the finest villages in the Cyclades. As beautiful as Chora in Ios and Chora in Folegandros.