You can read more about Alonissos via the links at the end of this page.
A very short summary of the information comes here:
It is possible to travel on a package holiday from some countries to Alonissos. If you are travelling independently, you go by air to Skiathos, catch a taxi to the port of Skiathos, and continue with the first ferry to Alonissos. As easy as pie.
Patitiri and Chora are the two main villages, in addition, there are some smaller settlements, like Rousoum, Votsi, Kalamaki and Steni Vala.
If your are looking for kilometres of sandy beaches with sunbeds and beach-music bars, then Alonissos is the wrong island to go in for. The beaches mostly consists of bigger pebbles or smaller pebbles, there are only a few sandy beaches. The most popular beaches are Chrisi Milia, Roussoum and Agios Dimitrios (see picture on top of the page). Other beaches are Megali Amos, Kokonikastro, Marpounta, Vythisma, Glyfa, Megalos Mourtias, Ghialia, Tsoukalia and Leftos Gialos.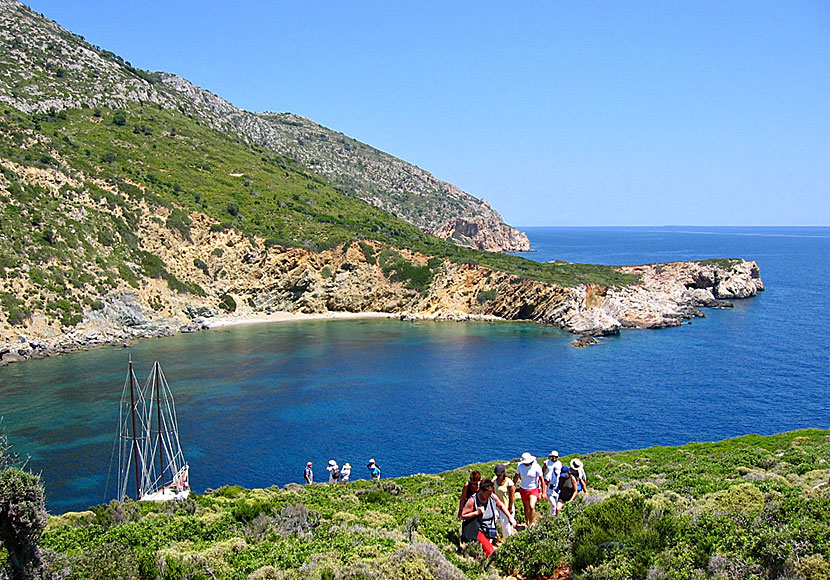 On an excursion in the Marine National Park. Do not miss!
There are no historical sights that you must see, so you can peacefully stay on the beach and have a lazy time with a good book under a parasol. The main attractions are the beautiful scenery, The Marine National Park and the church of Agia Anarghiri.
Almost all tourists stay in Patitiri or in the neighbouring village of Roussoum. Personally I think it's best to stay above the port of Patitiri. There are many hotels and pensions with breathtaking views.