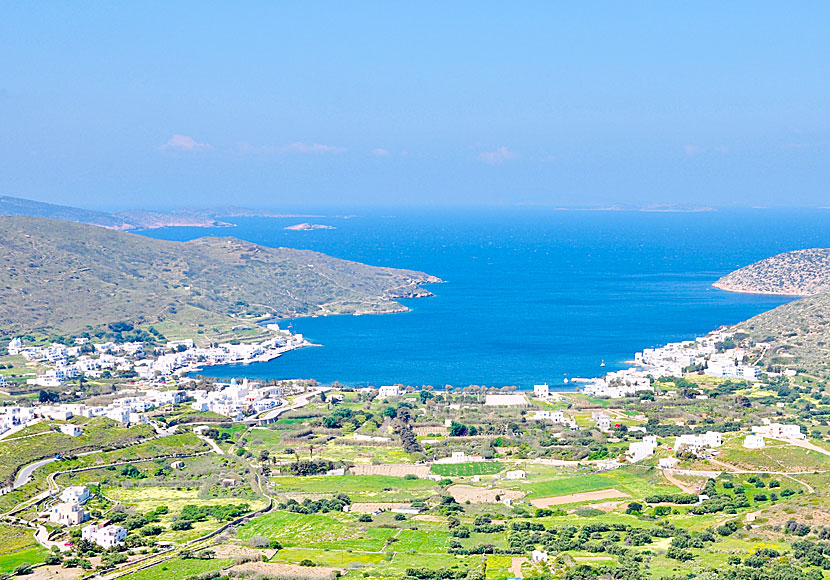 Katapola, Rachidi and Xilokeratidi= Katapola. On the hill to the right is the ancient city of Minoa.
The village is narrow, the port and the waterfront dominates, there are hardly any streets or alleys, almost the entire village is located along the waterfront, traffic is minimal and there is almost nowhere to drive. Tavernas, cafes and small bars are lined in a row along the waterfront. Many of them are quite irresistible.
The majority of the pensions, tavernas, travel agencies and shops are located in Katapola. There is a minimarket and a few pensions in Rachidi and in Xilokeratidi there are more tavernas and pensions. In Xilokeratidi lies the bar Le Grand Bleu that previously showed the film The Big Blue every night, but since the summer of 2014 that possibility disappeared. My favourite taverna is Mouragio located where the ferries dock. If you like pizza there are one very good places to eat: Captain Dimos.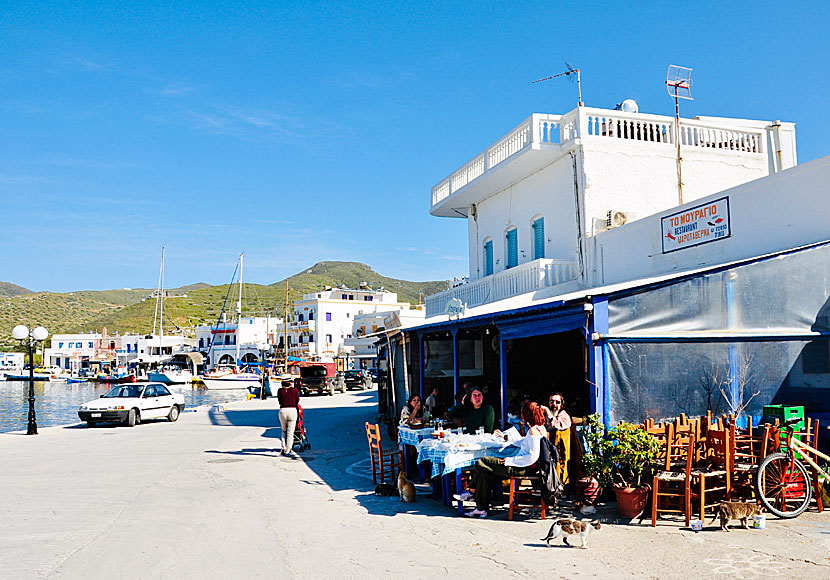 Taverna Mouragio in Katapola.
Fishing boats crowed together with hired sailboats in the sometimes bustling port. When a ferry is coming, it is full speed in the port, everyone seems to be up and about: curious tourists, letters of rooms, poor tourists about to leave and those like me who can never get enough of meeting up ferries on their way to the port.
It is most fun when Express Skopelitis put in, you'll understand why when you are on location. Express Skopelitis is incidentally the largest attraction in Katapola. If you want to see Katapola from above, you just go up to Minoa from where you have a fantastic view.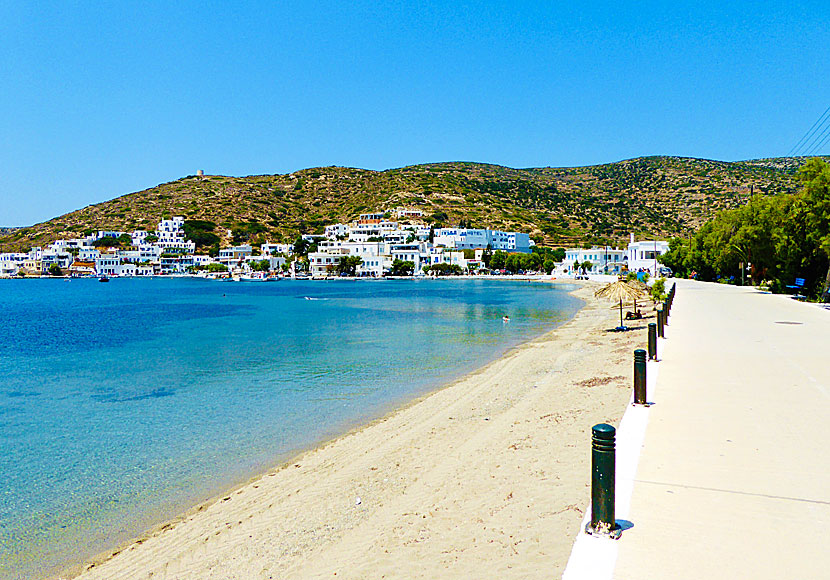 The beach starts in Katapola and ends in Xilokeratidi.
The best beach in Katapola is Maltezi beach, you can go there on foot or take the beach boat. Just below Eleni Rooms, the last building on the left side of the port, there is a sandy beach that is okay. Many people who stays at Eleni take a morning or evening swim here.
Along the waterfront promenade there is a beach which is quite okay at the right weather. Otherwise, go by bus to Agia Anna and go for a swim there.
ACCOMMODATION IN KATAPOLA
The range of pensions is almost as large as in Aegiali. Most accommodation is in the part called Katapola, but there are also pensions in Xilokeratidi. Where you choose to stay does not matter because the distances are short. Here you find a few suggestions for hotels in Katapola.