You can read more about Koufonissi via the links at the end of this page. A short summary of the information comes here:
The easiest way to get to Koufonissi is to go by air to Santorini and travel on by ferry to Naxos, which is the major hub for almost all ferry traffic to and from the islands of the Small Cyclades. The small ferry of Express Skopelitis ply the route Naxos, Iraklia, Schinoussa, Koufonissi and Amorgos six days a week during the summer months. Another option is to fly to Athens and go by ferry from Athens' port at Piraeus.
Chora is the island's only village. The village is divided into two parts, the large and the small village, they are separated by the superfine port beach. Although the village is so small there are all the facilities you need on a holiday. It includes several tavernas, bars and cafes, supermarkets, travel agency, gyros place, and lots of good hotels.
Koufonissi has fantastic sandy beaches and all are child friendly. The entire coastline from Chora (see picture on the port beach on top of the page) to Pori is lined with beaches, smaller beach pockets and small lagoons. The first larger beach is named Charakopou, but is commonly known as Finikas after the popular taverna. The next beach is Fano, followed by Platia Punta and the farthest is the paradise beach of Pori.
Is there anything missing on Koufonissi, then it's sights. Here's nothing you must see before you continue your journey. So you can quietly lean back and continue to read your book, or to go for one more swim.
That Koufonissi has become an increasingly popular tourist destination is particularly noticeable in the number of newly opened hotels and pensions. Some of them have a swimming pool, something you never saw before. During the low season, there are plenty of rooms available, but if you come during high season you have to book a place to stay far ahead.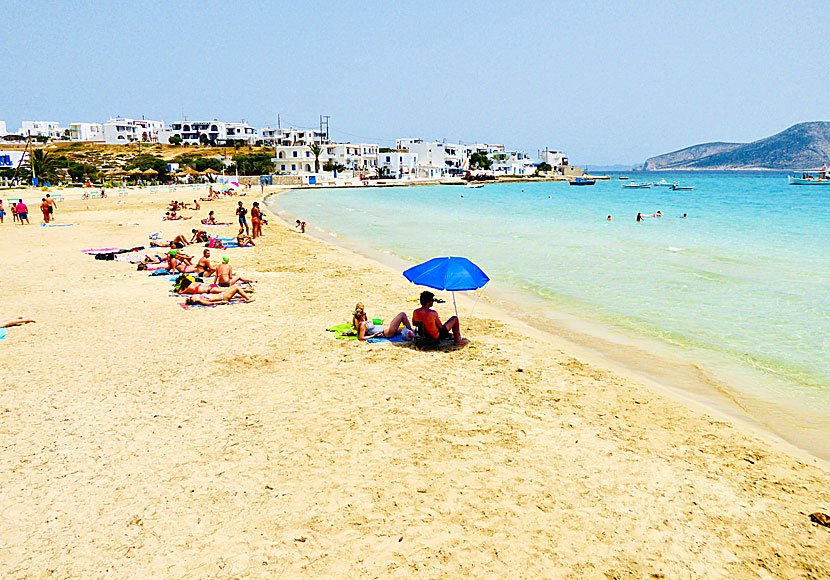 The beach in Chora is so good that you don´t need more beaches.