You can read more about Naxos using the links at the end of this page. A short summary of that information comes here:
You can go to Naxos on a package holiday from some countries. If you are travelling independently, the easiest way is to buy a spear seat on a charter flight to Athens, Mykonos or Santorini. Naxos has excellent boat connections with Athens' port at Piraeus and with Santorini. The fastest way is to fly to Santorini, the voyage to Naxos only takes two hours by Blue Star Ferries.
There are many unspoilt villages full of Greek everyday life, just as there is exploited tourist resorts. It makes the villages of Naxos to become a good mix of old and new, touristic and genuine. Naxos Town is the island's largest village and Apiranthos is the most picturesque village. Other nice villages are Apollonas, Halki, Koronidha, Skado, Koronos, Moutsouna, Moni, Kournochori, Melanes, Filoti and Danakos.
Naxos is blessed with some of the best beaches in all of Greece. Most are located on the west coast, not far from Naxos Town. The beach closest to Naxos Town is the child-friendly Agios Georgios, or Saint George as most people say. After that lies Laguna Beach, and further away lies Agios Prokopios beach which by many is considered to be the best beach on Naxos. After Agios Prokopios lies Agia Anna (see picture at the top of the page). Not far from Agia Anna lies Maragas Beach and Plaka beach. After Plaka lies even more beaches, including Orkos, Mikri Vigla, Glyfada, Aliko and Pyrgaki. Other good beaches are Lionas, Psili Ammos and Abram.
Many think that Naxos' main attractions are the beautiful beaches and the old quarters of Naxos Town. Other attractions are the beautiful scenery, the Portara in Naxos Town, the Temple of Demeter outside Sangri and the strange stone statues in Melanes and Apollonas called Kouros. Do not miss Vallindras Kitron Distillery in Halki.
The range of hotels and pensions are enormous. If you want to stay close to, or at a beach, you can choose Agia Anna, Agios Prokopios or Plaka. Accommodation is also available at other beaches, like Mikra Vigla, but the selection is not as large. If you want to stay at a beach and be close to Naxos Town, then you can choose Agios Georgios Beach. Of course there is also a wide range of accommodations in Naxos Town.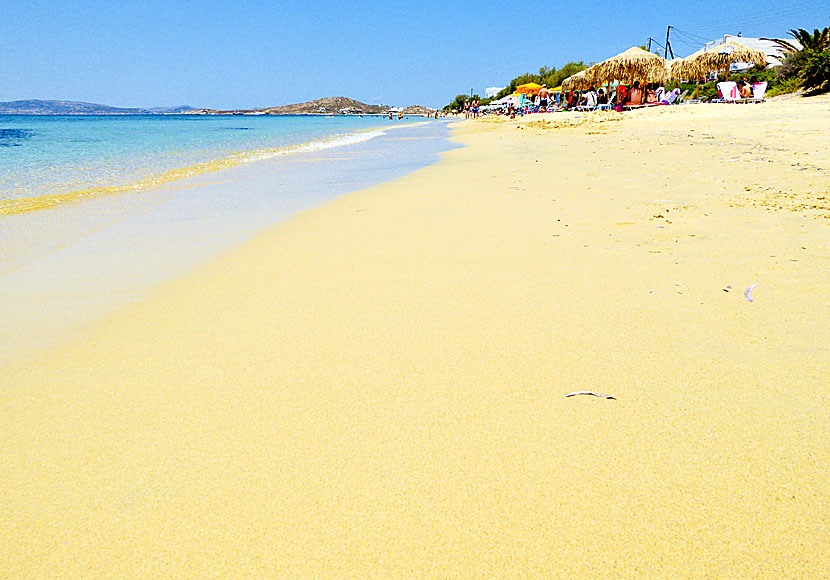 Plaka beach in Naxos, is one of Greece best beaches.