BY FERRY
Amorgos has good boat connections with Santorini and Athens' port at Piraeus, and pretty good boat connections with Mykonos. However, it is another island that has the best boat connections with Amorgos, and it's Naxos, both with regular ferries and catamarans, and with the mythical Express Skopelitis. Express Skopelitis is a small local ferry with its home port in Katapola on Amorgos. It is small, it is slow, it seldom keeps to time and it is not the archipelago's funniest ferry to travel with when it is a strong wind.
Express Skopelitis runs the route Naxos, Iraklia, Schinoussa, Koufonissi, Amorgos all year round. Some departures also goes to Donoussa (after Koufonissi). The voyage between Naxos and Amorgos takes about five hours with Express Skopelitis, longer if she is going to Donoussa and even longer if it is a strong wind. Express Skopelitis runs six days a week during the season, and during the low season she runs three to four times a week.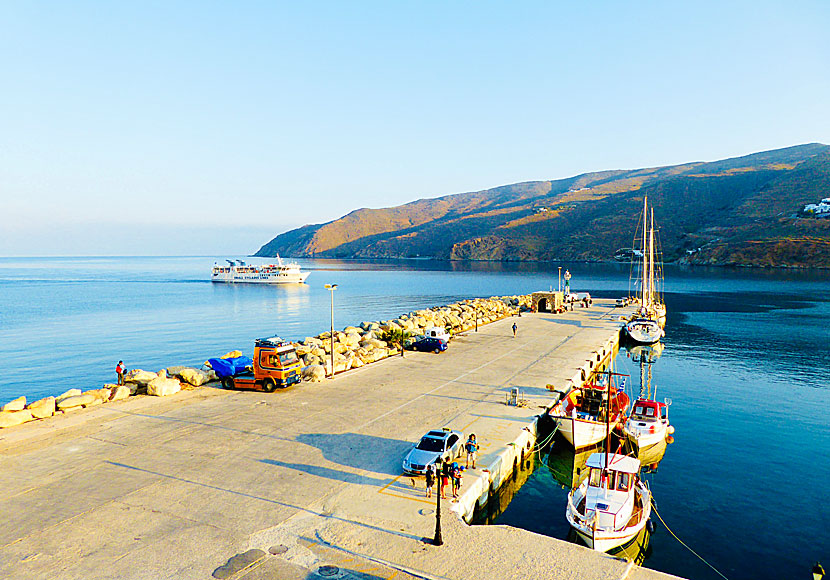 Do you think that Express Skopelitis feels insecure, or takes too long time, you can choose to go with big ferries like Blue Star Ferries and catamarans. Amorgos also has good boat connections with Astypalea, Folegandros and Sifnos. There are also boat connections to Kos and Rhodes one or two days a week.
Keep in mind that there are two ports on Amorgos: Katapola and Aegiali. Sometimes the ferries call at both ports, sometimes not. It takes almost an hour by bus from Katapola to Aegiali, so the best thing is to disembark in the right port.