The small square is by far the finest part of Chora, a kafenion is located here and one may easily laze away a full day here. Do not miss a visit to the Kastro, standing on the village's highest point, from here you can see the entire village. Actually, you should not miss anything in Chora, take time to stroll around and enjoy the silence, the everyday life, the squares, the labyrinthine alleys and the fancy arches.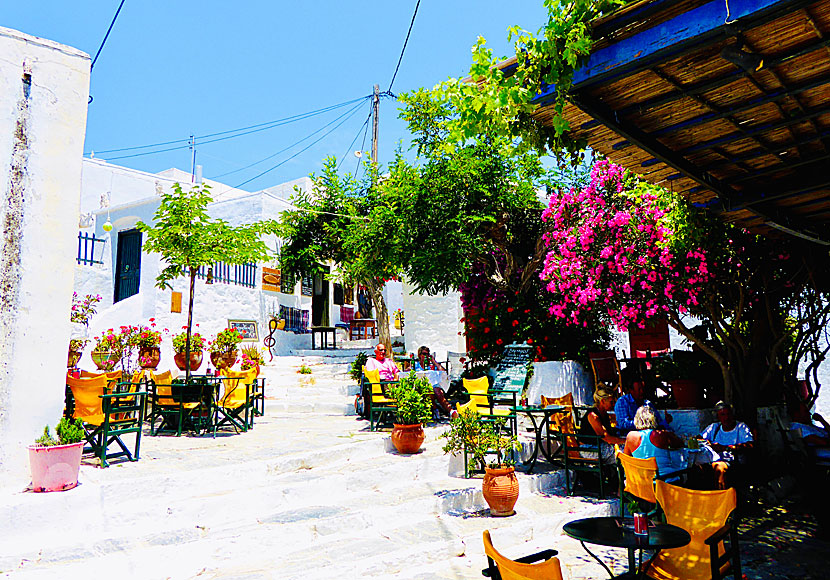 One of the squares in Chora.
When you get tired of the whole lot, which is nearly impossible to be, you can walk up to the windmills above the village, they stand there like giants and watches over the village. Bellow the windmills, on the other side of the mountain, lies Agia Anna and the monastery of Panagia Hozoviotissa.
The bus goes to Chora from Katapola and Egiali. If you like to hike, you can go on a hike from Katapola to Chora via the old donkey path that begins in Xilokeratidi.
Sometimes you see people that walk the road up to Chora. It do not look so strenuous when you see the road from Katapola, but I can assure you that it is terribly exhausting to walk the way up. Believe me, I've done it, and I regretted it every step I took.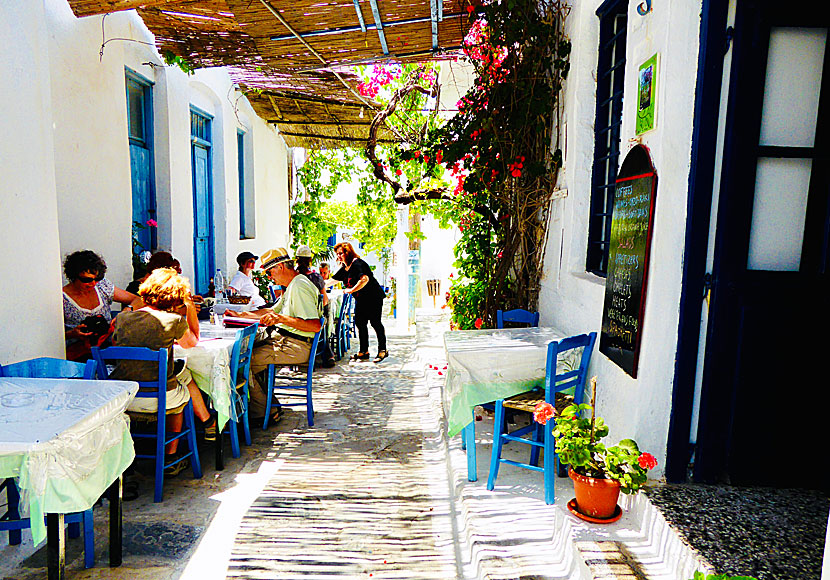 One of the tavernas in Chora.
ACCOMMODATION IN CHORA
We almost always stays in Katapola, and sometimes we go by bus to Chora in the evening to eat dinner. Every time we've done it, we have said that we will stay a few nights in the village, but it still has not happened. The range of pensions is small, for example there are only a few places to choose from on booking.com: Panorama and Pension Ilias.