Below Tholaria is a valley called The valley of retired donkeys, in olden times people let their donkeys live in the valley when they got old. To reach the valley, go to the left in the beginning of the village, look for a path that leads downwards and continue past a gate and continue further downwards, soon you will see a bay and get a glimpse of the beach Mikri Vlychada which is hard to access. The valley on the left is the place where the old donkeys lived their last days on Amorgos. That is how the story is told, true or not, anyway it is sweet.
ACCOMMODATION IN THOLARIA
I have not stayed overnight in Tholaria, but if it is any of the small mountain villages I love to stay in, it is Tholaria. And in Langada of course. :-) Below are links to two good hotels, one of them even has a swimming pool if you think it is to far to the sea.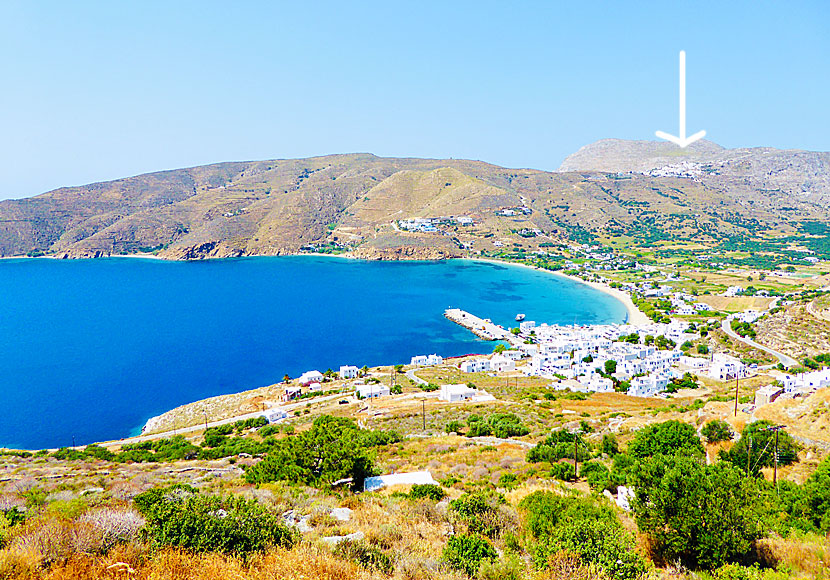 Egilali bay. Tholaria is below the red arrow. The picture is taken from Potamos.
The bus to Tholaria starts out from Aegiali, you can also go there (3 km) by private vehicle or go on foot by the old donkey path. The hike is very easy, especially the way down when you know that a refreshing swim waits for you. There is also a hiking trail to Langada.