An, for Amorgos, unusually flat agricultural landscape extend itself west of Arkesini, the area is called Kato Meria and is not similar to anything else on the island. There are no high mountains or deep valleys, just arable and pasture land, but the surroundings are still very beautiful and well suited for simple hikes.
A few kilometres west of Arkesini lies Kolofana which is even smaller than Arkesini. Also here is a taverna. If you csontinue the road after Kolofana, you will eventually arrive to Kalotaritissa, where Amorgos ends.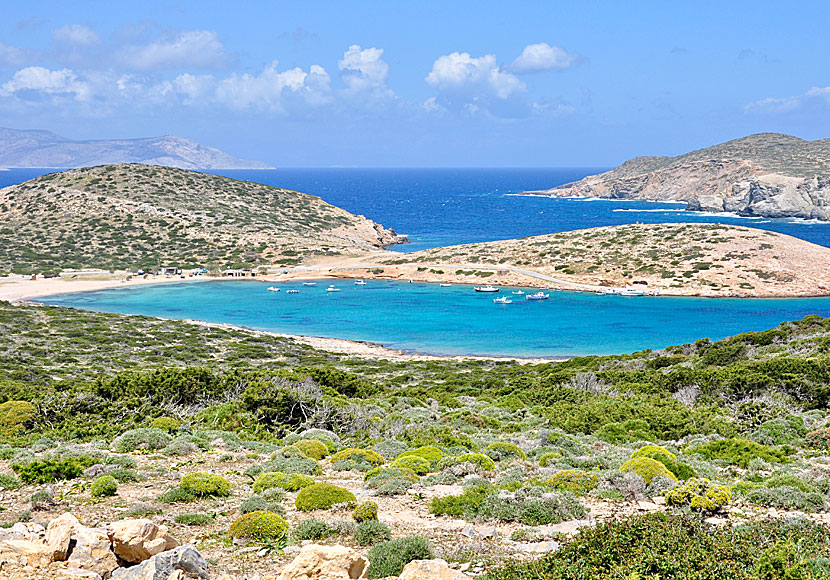 Kalotaritissa.
Kalotaritissa is a tiny settlement with a few houses, below the settlement lies a bay of the same name. The bay is protected from the wind and weather and when it is storming the fishermen usually anchor their boats here. The bay has a small beach where it sometimes, lo and behold, are sunbeds and umbrellas.
You can make a detour to the monastery of Agia Paraskevi and to Paradisi beach before you arrive to Kalotaritissa. Despite its name, it's no paradise beach, but it is quite okay just to have a dip. Just before you reach the end of the road you will pass a bay on the right side where the wreck of the cargo ship Olympia are lying and rusting.