You can read more about Iraklia via the links at the end of this page. A short summary of the information comes here:
The easiest way to get to Iraklia is to go by air to Santorini and continue by ferry to Naxos, which is the major hub for almost all ferry traffic to and from the islands of the Small Cyclades. The small ferry of Express Skopelitis serves Naxos, Iraklia, Schinoussa, Koufonissi and Amorgos six days a week during the summer months. Another option is to fly to Athens and go by ferry from Athens' port at Piraeus.
As said, there is just two villages on Iraklia. Agios Georgios (see photo on top) is like New York compared with small Panagia. A visit to Panagia is like a journey back in time. In Agios Georgios are several good pensions, a few tavernas, a travel agency, a café, a supermarket, a mini market and a souvenir shop.
When it comes to beaches, there are not as many as on Koufonissi. But those who are keep high class. Most tourists content oneself with the short walk to Livadi beach, which is not only easiest to reach, it is also the island's best beach. The beach is long, it is rarely crowded, the sand is fine grained and it is shallow. Here is a taverna which is open during high season. The port beach is also a very nice beach.
Apart from everyday events, like when Express Skopelitis or a ferry docks, there are not so many attractions. Iraklia's only real sight is the "Cave Church" of Agios Ioannis, located just below Iraklia's highest mountain. To get to Agios Ioannis is not easy, but the hike is worth every drop of sweat. What makes this cave so special, apart from several stalactites, is that it also works as a church. Actually, it is two caves opposite each other.
As on all small islands, Iraklia also has a limited range of accommodations. If you travel here during the off-season, it is easy to find a place to stay, but during the summer you should definitely book in advance. The standard is surprisingly high for such a small island. There are no pensions in Chora, all pensions are in the port and above Livadi beach.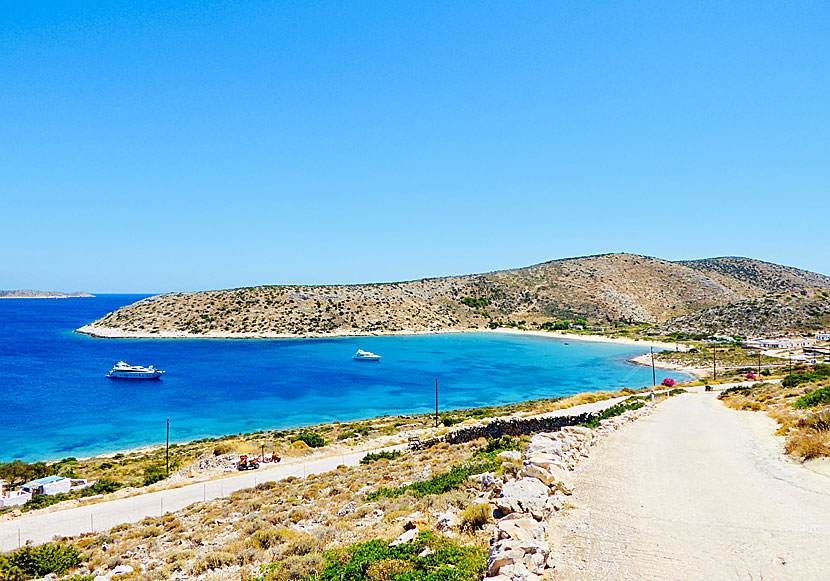 Livadi beach is the best beach in Iraklia.