SIGHTS IN NISYROS
The reason that Nisyros is frequented by day tourists from Kos is, of course, the volcano. According to Greek mythology Nisyros was created during a duel between the titan Polyvotis and the sea god Poseidon. During the quarrel Poseidon broke off a piece of Kos and threw it on Polyvotis. The cutting block that Polyvotis got in his skull created the island Nisyros.
There he stands today with Nisyros on the head and is very angry, sometimes so angry that the volcano erupt. Fortunately, it is a long time ago since Polyvotis was so angry; the last major eruption was in the 1 500 century when parts of the inner island collapsed.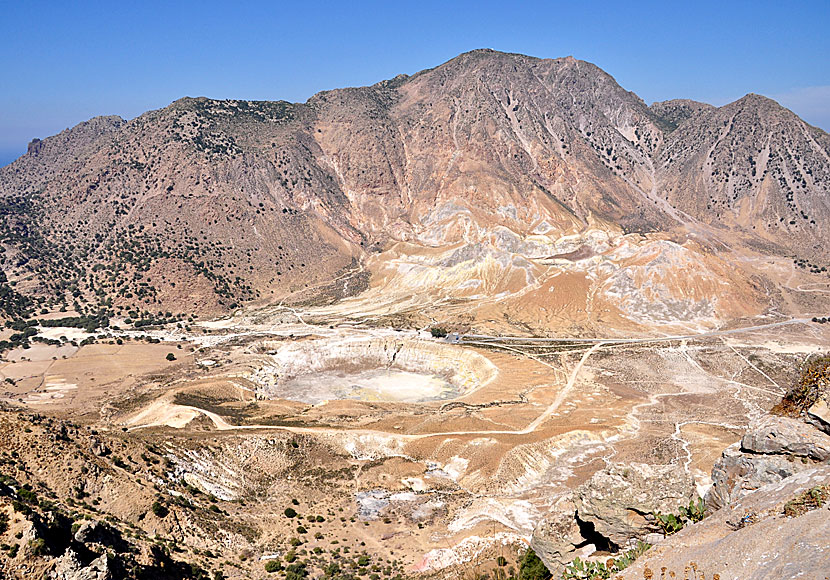 The volcano seen from the village of Nika.
For quite a long time ago - more than 30 000 years - half of the island collapsed in a giant volcanic eruption. It was then that the large amphitheatre-like caldera was formed.
Over the years, the volcano has had several minor eruptions, the latest eruption was in 1888, and these small eruptions have mainly consisted of gas and smoke. It has not been any real eruption of running lava for many years. I'm not sure if the volcano is active from a geological point of view today. It does not matter; the volcano is one of the Greek islands most interesting sights anyway.
The caldera has five craters that you can visit. The largest and most visited crater, Stefanos, is 350 m in diameter and 25 m deep. It simmers from holes in the ground and the sulphur smell is biting.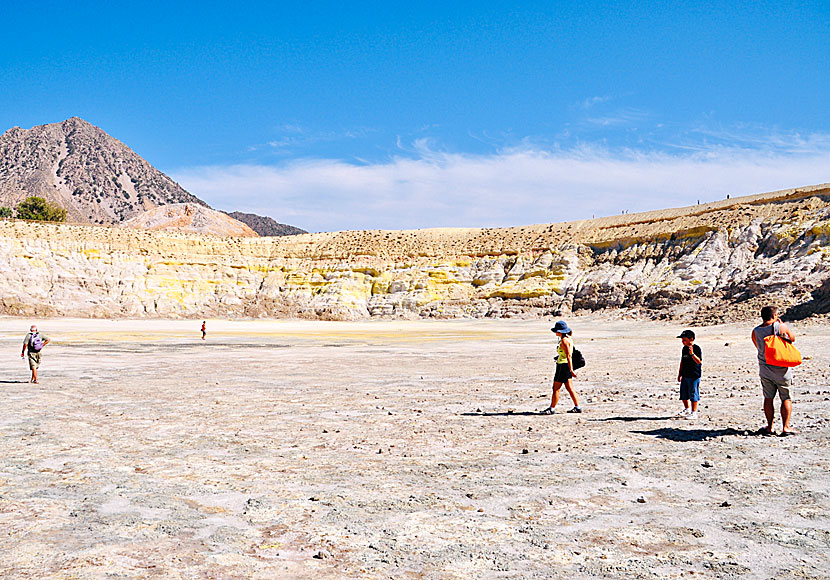 The crater Stefanos in Nisyros.
During one of the volcanic eruptions of Nisyros also hit the neighbouring island of Tilos. In the water outside Agios Antonios beach on Tilos are residues from the two petrified fishermen. Read more about that here »
Bring appropriate shoes because it can be very hot on the ground. You get here by tour bus from the port or with your own vehicle. The latter is preferable if you want to have the volcano for yourself, come as early as you can in the morning, before the tour buses arrive.
Other popular sights are Paleokastro above Mandraki, and Moni Panagias Spilianis in Mandraki. from where there is a magnificent view over the island and over Mandraki.