To the right of the square, under some majestic trees, lies the pleasant ouzeria Omonia. They serves breakfast, lunch, and dinner. The food is good-tasting, as everywhere on Tilos, but at Omonia it's not just the food that attracts, it is also the charming, and very Greek atmosphere that attracts. The locals get together here both during daytime and during the evenings. Omonia is the perfect place for board games or a good book and a nice place to end the evening. You will surely pass Omonia sometime, because here is Tilos only ATM.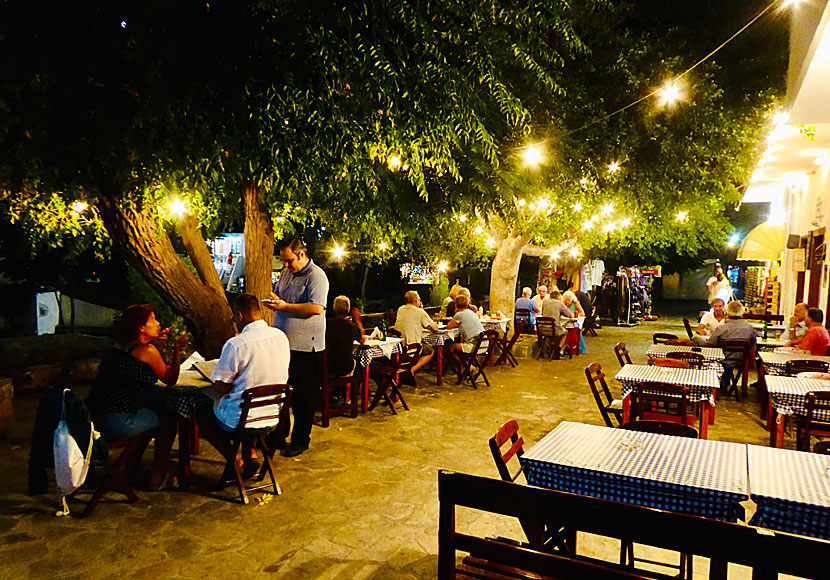 Ouzeira Omonia in Livadia.
When I am in Tilos, I go to Omonia at least once a day, either for lunch or dinner. It is just not me, here are many returners. Do you want to be sure to get a table in the evening it is best to make a reservation. Michalis and Maria is the names of the nice owners. Michalis (who hear a little badly) serves and crack jokes, and Maria is responsible for the cooking. She cooks food like her mother did. In other words, good old-fashioned Greek homely fare. Try their "Baby pork from Tilos" and their Gigantes.
Along the street that leads from the square is a small souvenir shop, and a little further - on a side street - is the bakery run by Mike, who owns Anna's Studios. After the bakery is a cosy place called Mediterranean Delights. The restaurant is run by the super-friendly chef Tony who lives in New York half the year. Tony served fantastic good food, many dishes are only available here. Please ask if he has any specialties for the day.
Mediterranean Delights is next to the bakery in Livadia.