Rhodes belongs to the Dodecanese Islands, and it is Greece's fourth largest island to the surface (1401 km2) and has 115,500 inhabitants. Only Crete, Evia and Lesvos are bigger. Rhodes is so large that it required many trips before you get to know the island, especially the southern parts that are not frequented by many tourists. Highest mountain is Ataviros and measures 1 215 meters above sea level. Nearest neighbouring islands are Chalki and Symi.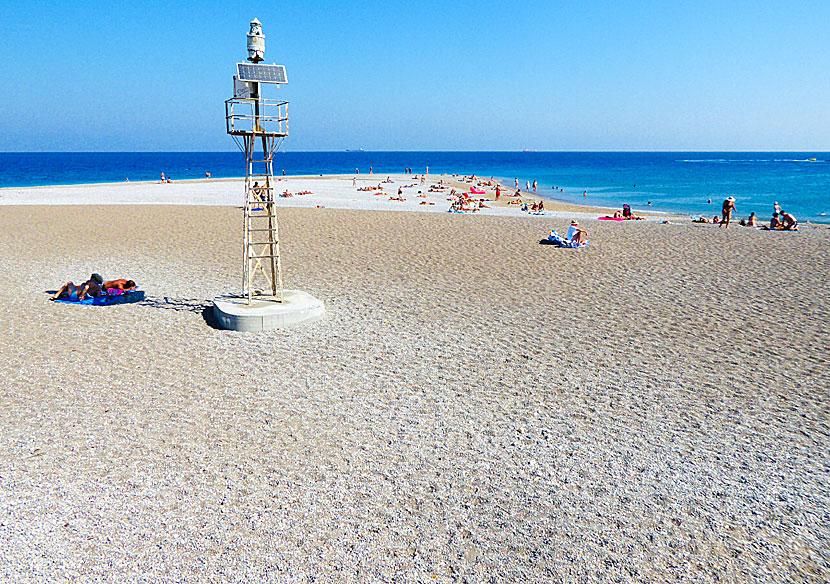 The Cape of Rhodes town where Windy beach and Elli beach meet each other.
For many, Rhodes is almost synonymous with Greek tourism, everyone has heard about the island, and many Scandinavians have been here on holiday. That Rhodes is popular is not surprising, here are almost everything you could wish for, especially a lot of nice beaches, a lively nightlife, great shopping and a historically significant heritage.
TRAVEL TO RHODES
The majority of the tourists go by charter to Rhodes. Charter companies offer hotels at many places on the island; if you have difficulty to choose, Rhodes town is a good base. If you choose to go on your own there are many possibilities, the easiest is of course to travel by air directly to Rhodes.
But if you go some were else, the boat connections to and from Rhodes is very good, especially between the islands of the Dodecanese, but also with some of the islands of the Cyclades, and with Crete and Athens' port city Piraeus.
Book ferry tickets online here »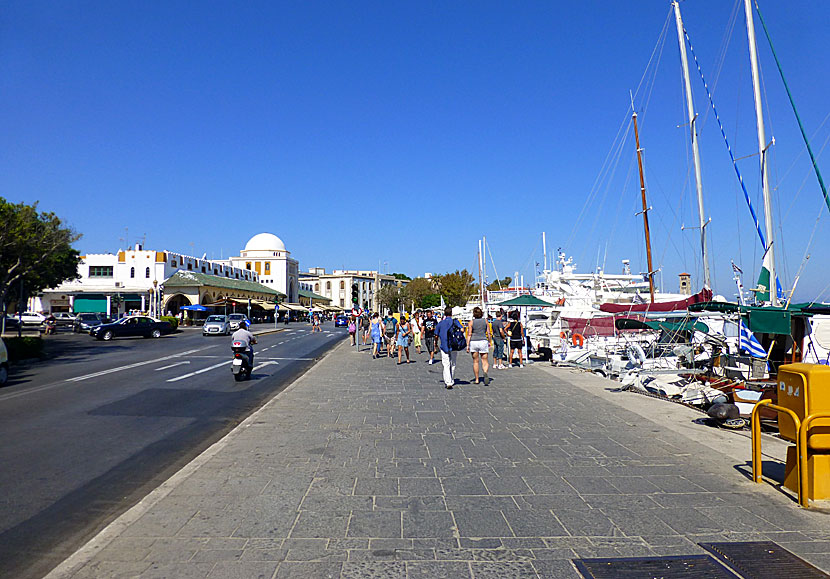 Mandraki port in Rhodes Town.
GETTING AROUND IN RHODES
Rhodes is, as said, a very large island with many inhabitants and of course that is thrown back on the traffic, which is pretty intense; especially in and around Rhodes town and on the highway to Lindos.
Bus services are good. Car, moped and bicycle rental services are almost everywhere. Excursion boats to the neighbouring island Symi, leaves every morning from Mandraki port.
VILLAGES IN RHODES
In such a large island like Rhodes there are naturally lots of villages. My favourite village is Rhodes old town and Salakos.
Rhodes town consists of a newer and an older district. The new part of Rhodes town is a noisy thing with a lot of traffic and large hotels. A huge contrast to the old town and it feels almost unreal to go from one part to the other. In the new neighbourhood of Rhodes you find the two ports, so it is the new part you first become acquainted with if you arrive with boat.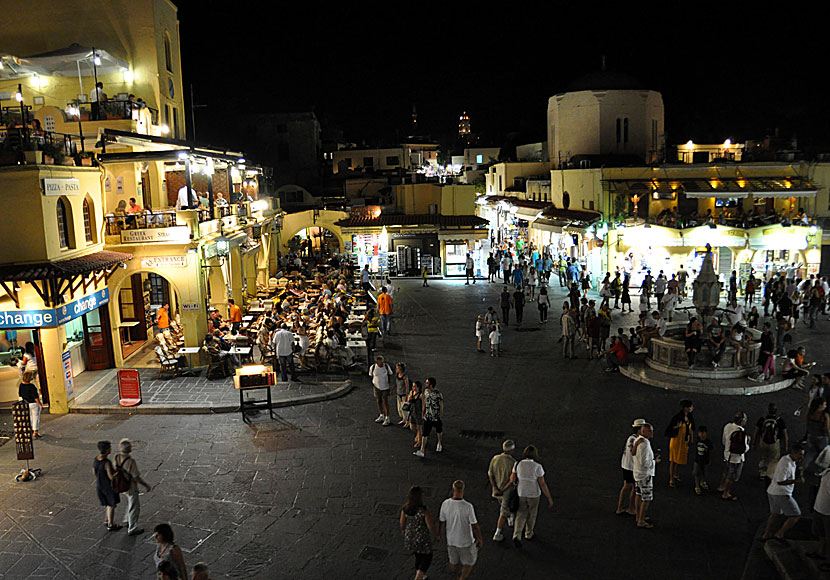 Hippocrates Square in Rhodes Old Town.
At the entrance of Mandraki Harbour it is believed that the famous lighthouse, the Colossus of Rhodes, stood statue. Continuing a short distance to the north you come to the third largest casino in Greece and the beaches Windy and Elli beach (see also picture at the top of the page). Far north, where east and west meet, is a yellow building that is good to have as a landmark. In the building's lower floor is an aquarium.
Rhodes old town is from the Middle Ages and is one of the most spectacular districts I have been visited. I think Rhodes old town is in the same class as the old town of Krakow and the old town of Prague. Certainly it is super touristy and commercial in some areas, mainly around Socrates street and in the area around Hippocrates Square, but that I happily forgive.