The wildlife is also rich and varied, the island is not least famous for its many bird species, which makes birdwatchers from all over the world travelling to Lesvos. As cherry on the cake there are a lot of nice villages, many are completely unaffected by tourism. My favourite village is Skala Eressos. The village is characterized by the Greek poet Sappho who lived on Lesvos in the 7th century BC. Several of her love poems were addressed to women, and therefore is Sappho considered to be the mother of the lesbian literature. She is believed to have lived north of Skala Eressou, and therefore it has become something of a lesbian travel destination.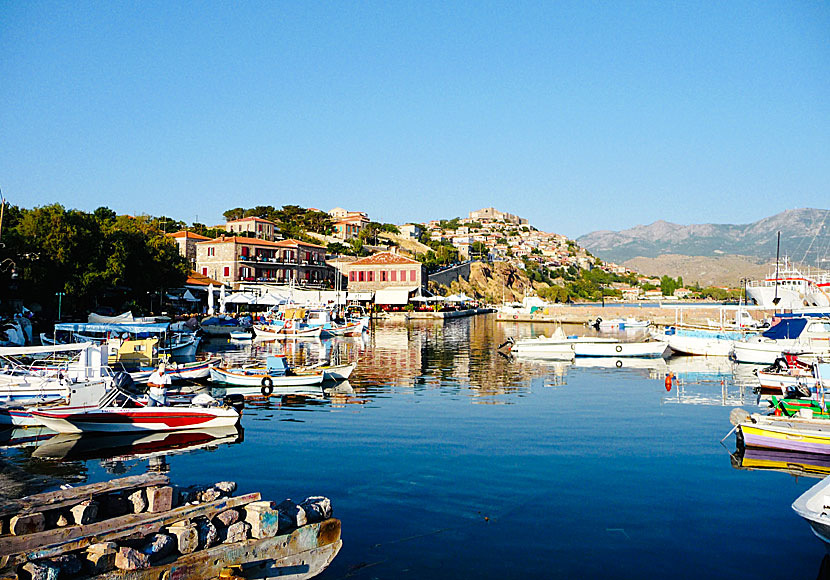 Molyvos is one of the most beautiful villages in the Greek archipelago.
I can, without exaggeration, say that Lesvos meets everyone's wishes, the island is like a Kinder Surprise Egg, but unlike a Kinder Egg, Lesvos meet more wishes than three. When we had been on Lesvos for about a week the first time we came here, I wrote this in my blog: Lesvos is really the island of surprises. We thought we had prepared properly before we left, but oh so wrong we had. There seems to be a whole lot to see and do "around the corner".
One of the most important industries is the production of ouzo, and if there is something that is associated with Lesvos, it's ouzo. The absolutely best ouzo in Greece is produced on Lesvos, that is what the majority of the Greeks thinks, not just me. The ouzo that most tourists associate with Greece is Ouzo 12. It is not produced on Lesvos, and it is regarded as something that the cat dragged in, they say that it is no real ouzo and they turn up their noses, real ouzo should come from Lesvos. End of discussion.
Plomari is the capital of ouzo in Greece.
Is there any difference between ouzo and ouzo? Many think that it tastes just the same. (Or equally bad.) Well, actually it is a difference, and if there is somewhere you have the possibility of noticing a difference, it's on Lesvos where you can find a wide range of different brands. In some restaurants there are more than 20 different kinds of ouzo to choose from. Order a meze (small dishes) and a small bottle of ouzo and try out, maybe you will find a favourite. I have seventeen different kinds of ouzo at home, all of them comes from Lesvos. My favourite is Pitsiladi and it is almost only available on Lesvos. Another favourite is Plomari, it is sold all over Greece. Other famous brands are Mini and Barbayianni.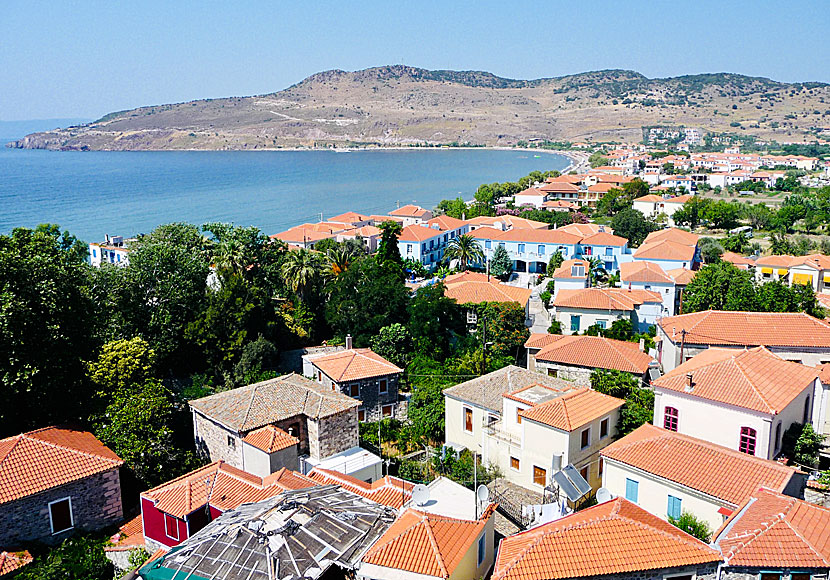 Petra is one of Lesvos most popular tourist resorts.
Ouzo is not the only thing produced on Lesvos, the island is also famous for its sardines, cheeses, olives and for its good olive oil. There are those who think that Greece's best olive oil is the one from Lesvos. The island is almost self-sufficient and most of the ingredients comes from local production. If you do not like ouzo, you can console yourself by revel in good food, because there are few islands where the food is so good and creative. Certainly there are exceptions, but generally the tavernas on Lesvos serves first-rate Greek food.