Fourni belongs to - together with Chios, Ikaria, Lesvos, Oinousses, Psara, Samos and Thymena - the Eastern Aegean islands. Lesvos is the largest island (1,636 km2, 90,000 inhabitants) in the group of islands, and Thymena the smallest (10 km2, 130 inhabitants). Fourni has about 1,450 inhabitants spread on 32 km2. The highest mountain measuring 514 meters above sea level. The main village, Fourni town, has about 1,100 inhabitants. The nearest neighbouring island is Ikaria.
View of Fourni village which is one of the island's two villages.
Fourni is one of twelve islands in a small unofficial group of islands, the group have nine small islands and three large, the larger islands are Agios Minas, Fourni and Thymena. Fourni and Thymena are the only islands that are inhabited. To complicate things a little, I can mention that the group of islands is called Fourni, and the island that this guide is all about is called Fourno. But for the sake of simplicity we write Fourni about Fourno.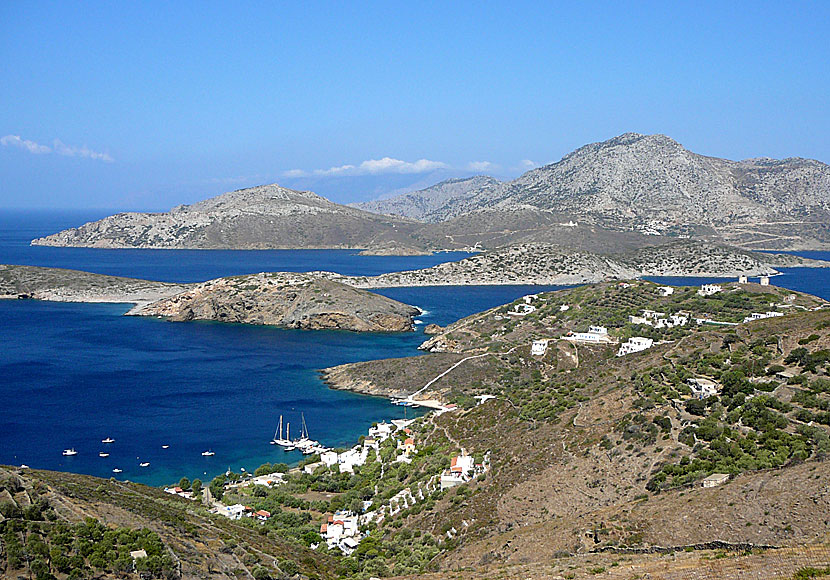 Fourni consists of several small islands. Kambi beach in the picture.
The name Fourni means "oven" in Greek, I do not know exactly where the name come from, but probably it has to do with the shape of the harbour bay, if you use your imagination it looks a little as if it were shaped as an oven. A funny detail is that the village of Pythagorion on the neighbouring island of Samos, formerly was called Tigani, which means frying pan in Greek.
What makes Fourni so special is the island's small size, the natural charm and good-natured islanders. When you meet people they exchange friendly greetings and after a few days, you feel like one in the team. The island is quite barren, the landscape is beautiful and walking friendly and some of the beaches are quite good.
Fourni is an ideal island for those who are looking for peace and quiet, who like to hike, who appreciate to eat good Greek home cooking at cosy tavernas, and who prefer quiet days and evenings rather than unruly ditto. Families with children have in recent years discovered that Fourni also is a child-friendly island. Friends of mine are travelling back year after year, the children love Fourni and the parents want me to keep quiet about the island. But I can not do that. :-)