You can read more about Folegandros via the links at the end of this page. A short summary of the information comes here:
Getting here is easy. The easiest way is to go by air to Santorini and continue by ferry. You can also fly to Athens and continue by ferry from Piraeus. The bus ply on Karavostasis (the port), Chora, Angali beach and Ano Meria. Scooter and car are available for rent in Chora and in Karavostasis.
There are three villages on the island: Karavostasis (the port), Chora and Ano Meria. Chora is one of the most picturesque villages in the Cyclades, while Ano Meria is one of the most rural. To be a port, Karavostasis is a quite nice village.
Folegandros is surrounded by a crystal clear and shimmering blue sea. The beaches are of good quality, although they are not as paradisiacal as the ones on for example Naxos. The most popular beaches are Agios Nikolaos, Angali (see picture at the top of the page) and Vardia. My favourite beach is Katergo. But there are many more beaches, like Livadaki, Ambeli, Lygaria and Agios Georgios in the north, and Latinaki, Visentzou, Pountaki and Livadi near the port.
When it comes to sights, there is neither ancient temples nor archaeological excavations. But there are other interesting things that you do not want to miss, like the church of Panagia, the sunset, Kastro and the Laographic Museum. The countryside is worth seeing if you like to hike.
There are many choices of hotels and pensions, and the standard is generally very high. Accommodation can become booked out during certain months of the year. Advanced booking is recommended.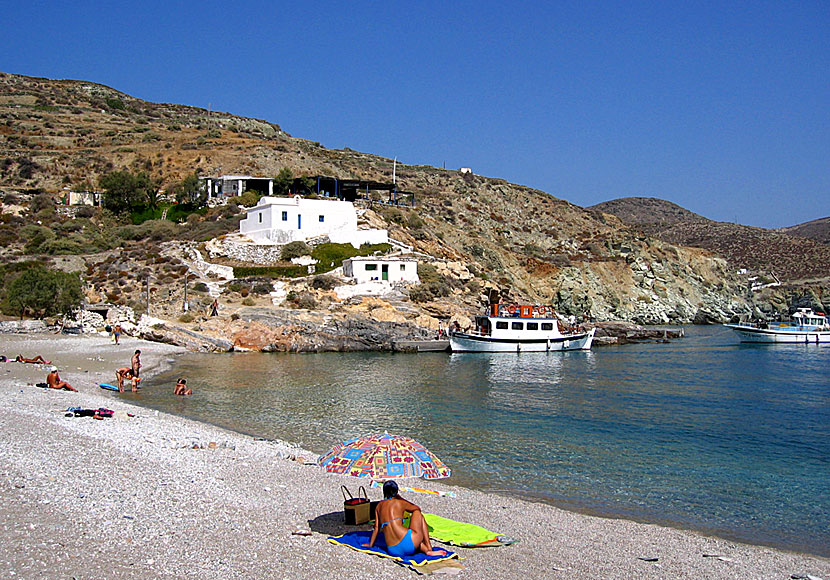 Agios Nikolaos beach is only accessible by boat from the port or on foot.