BEACHES IN ASTYPALEA
The beaches are with few exceptions, pretty mediocre. One of the exceptions is Livadia beach situated in a beautiful and fertile valley about 2 km from Chora.
The beach in Livadia consists of fine grey sand mixed with gravel that gets very hot in the afternoon. Along the beach are several tavernas and pensions.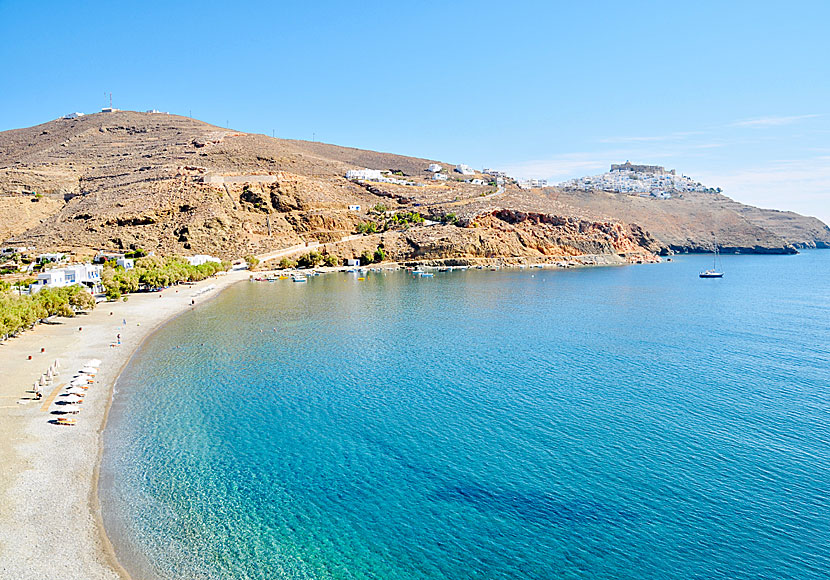 Livadia beach. Chora and Kastro to the right.
Other beaches can be found around the villages of Meza Vathy and Exo Vathy. Just south of Livadia there are three beaches lined after each other, it is possible to go there with a scooter. Kaminakia and Vatses in the south are only reached by beach boat.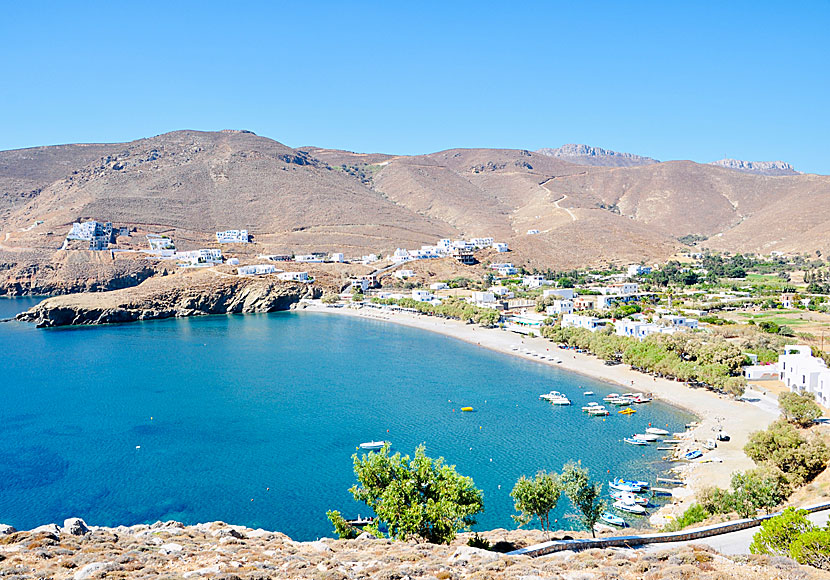 Livadia beach in the other direction. As you can see, Astypalea is a barren island.
SIGHTS IN ASTYPALEA
The main attractions of Astypalea are Chora and the fortress Kastro that is impossible to avoid noticing. Kastro watches over both Chora and Pera Gialos. The Kastro was built as a defense against pirates during the Venetian occupation.
There used to be some form of Kastro on most islands, many are now destroyed. The best preserved are on Antiparos, Folegandros, Kimolos, and here on Astypalea.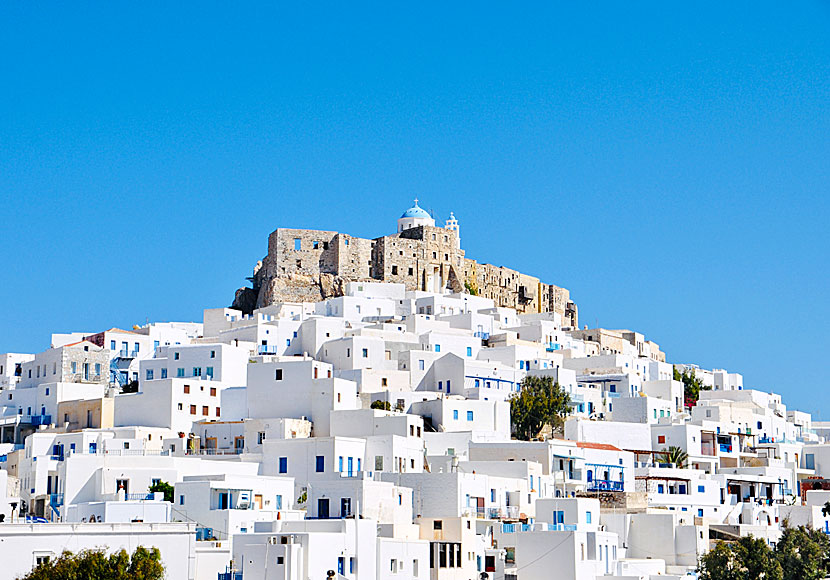 Chora and Kastro.
The Kastro on Astypalea is the most impressive of them. On the day it shines white from sunshine and at night it shines like a diamond in the spotlights. It is really impressive. Today, no one lives inside the Kastro, the last inhabitants moved 1948. It costs nothing more than sweat and tears to enter the Kastro. The views are breathtaking.
ACCOMODATION IN ASTYPALEA
There are a surprising number of pensions and hotels on Astypalea. Most are located in Pera Gialos, but there are quite a lot at Livadia beach, and along the way down to the beach.
Where it is best to stay is of course a matter of taste. Personally, I prefer to stay in Pera Gialos where there is the best variety of restaurants and shops. The port is far away, therefore I think it is best to book in advance, and agree with the guest house to be picked up at the port. Aphrodite Studios, Caldera Studio and Korali are three very nice hotels.
Book other hotels in Astypalea here »