SIGHTS
The main attractions of Astypalea are Chora and the fortress Kastro that is impossible to avoid noticing. Kastro watches over both Chora and Pera Gialos. The Kastro was built as a defense against pirates during the Venetian occupation.
There used to be some form of Kastro on most islands, many are now destroyed. The best preserved are on Antiparos, Folegandros, Kimolos, and here on Astypalea.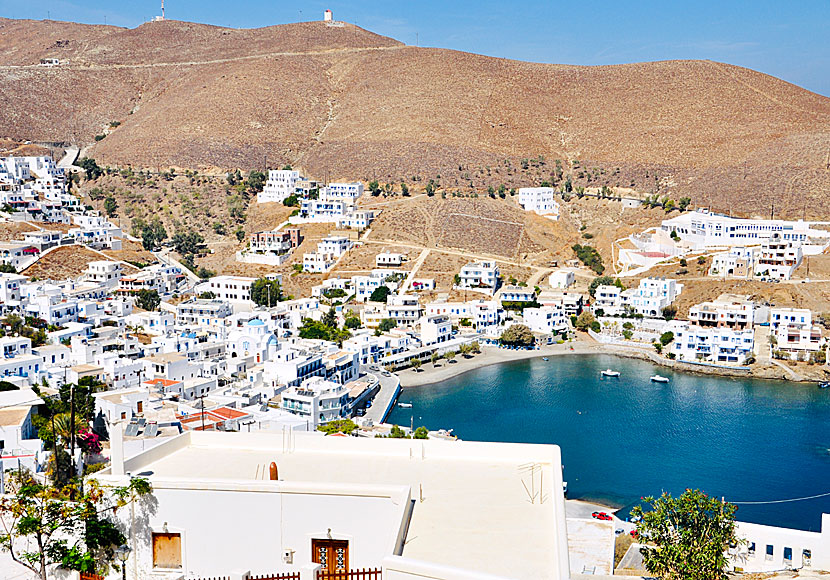 View of Pera Gialos from Kastro.
The Kastro on Astypalea is the most impressive of them. On the day it shines white from sunshine and at night it shines like a diamond in the spotlights. It is really impressive. Today, no one lives inside the Kastro, the last inhabitants moved 1948. It costs nothing more than sweat and tears to enter the Kastro. The views are breathtaking.
ACCOMODATION
There are a surprising number of pensions and hotels on Astypalea. Most are located in Pera Gialos, but there are quite a lot at Livadia beach, and along the way down to the beach.
Where it is best to stay is of course a matter of taste. Personally, I prefer to stay in Pera Gialos where there is the best variety of restaurants and shops. The port is far away, therefore I think it is best to book in advance, and agree with the guest house to be picked up at the port. Aphrodite Studios and Korali in Pera Gialos are two very pleasant small hotels.
Our favourite hotel in Astypalea is Aphrodite Studios »
Book other hotels in Astypalea here »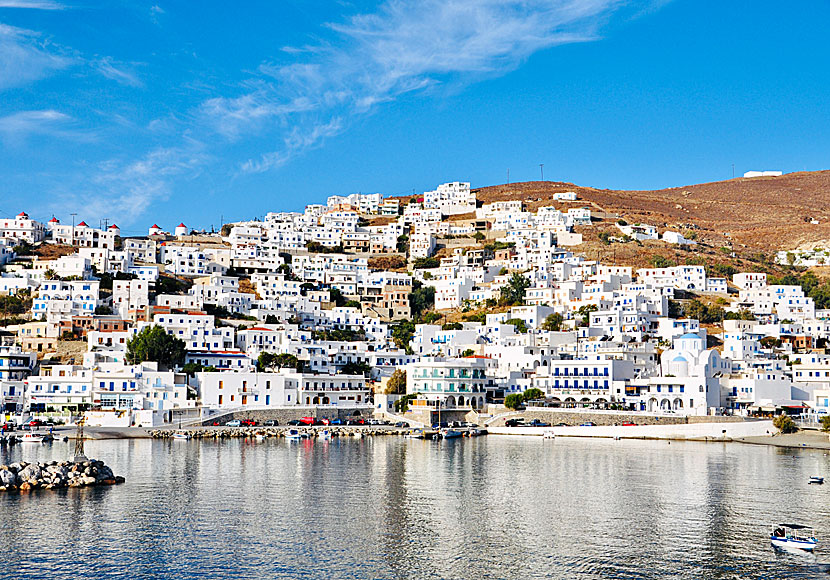 Chora and Pera Gialos on Astypalea.
As you can see the villages looks as those found in the Cyclades, but Astypalea belongs to the Dodecanese islands. The closest neighbouring island is Amorgos, in the Cyclades. :-)