The first tourists came to Mykonos for more than 60 years ago. At that time it was the historically interesting neighbouring island of Delos that attracted, but today the tourists come for completely different reasons. The Finland-Swedish author Göran Schildt travelled for several years in the 1950s in the Greek archipelago with his sailing boat Daphne. Each trip resulted in a book, the books are very interesting and should be read by all Greek lovers. Göran Schildt wrote this (my translation) in his amazing book In the Wake of Ulysses after his first visit to Mykonos in the early fifties:
"We also discovered to our amazement a lot of tourist dressed in shorts and carrying cameras, weird animals we have not seen before in Greece. Mykonos is one of the very few tourist and holiday destinations in Greece."
Shorts were probably not common in those days, nor could tourists have been particularly common. (One wonder why he describes tourists as animals?) That Mykonos was "one of the very few tourist and holiday destinations in Greece" is not strange. At that time, there were few who could afford to go on a vacation, and if they could they usually travelled to historically interesting places, perhaps to boast for their friends when they came home.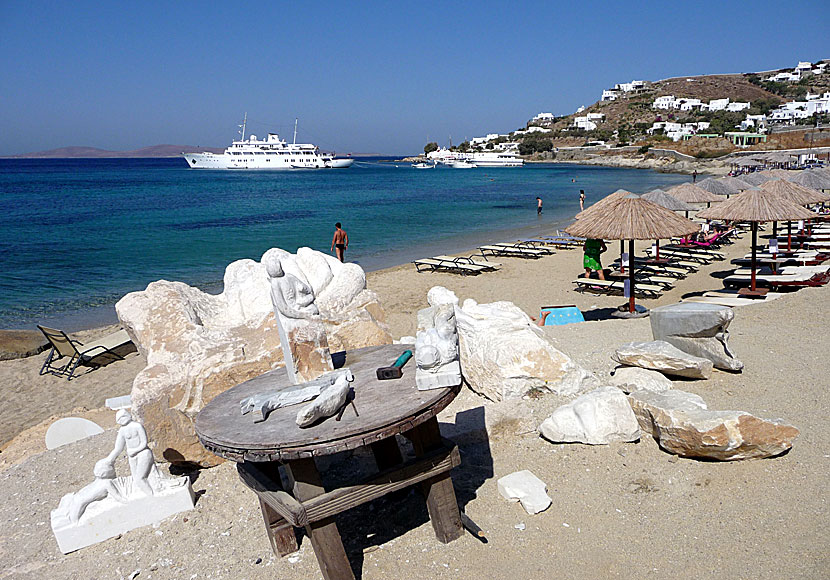 Agios Ioannis (Shirley Valentine beach) is one of the least exploited beaches.
Other islands that became popular early are Rhodes and Crete, and that for the same reason as Mykonos. Tourists travelled to Rhodes to see the Old Town and Lindos, and in Crete it was mainly Knossos that attracted well-off tourists. Thus they travelled to Mykonos to visit Delos, the place that in ancient times was not only the centre of the Cyclades but also a centre of Greece. Incidentally the name the Cyclades come from the Greek word kyklas which means around. Delos was the centre and the islands around were later named the Cyclades.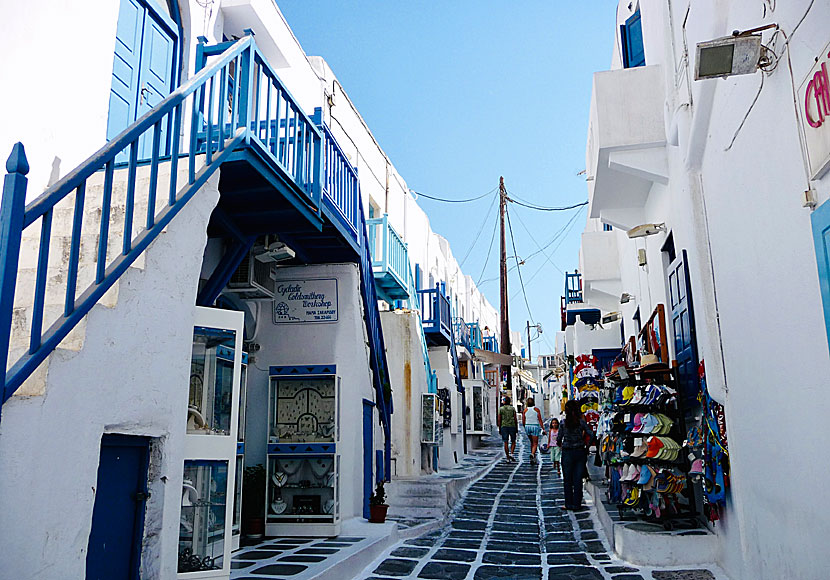 One of many cozy alleys in Chora.
Mykonos' attractiveness is nowadays of a completely different sort. Above all the magnificent sandy beaches (few other islands can compete with Mykonos) and the amazingly beautifully Chora, or Mykonos Town, attracts hundreds of thousands of tourists to Mykonos every year. Many travel here on a package-holiday, others come with one of the many cruise ships calling the port every day. Some cruise ships are so big that you get dumbfounded when you see them, but worse is the sight when all the passengers in a body enter the narrow alleys of the village.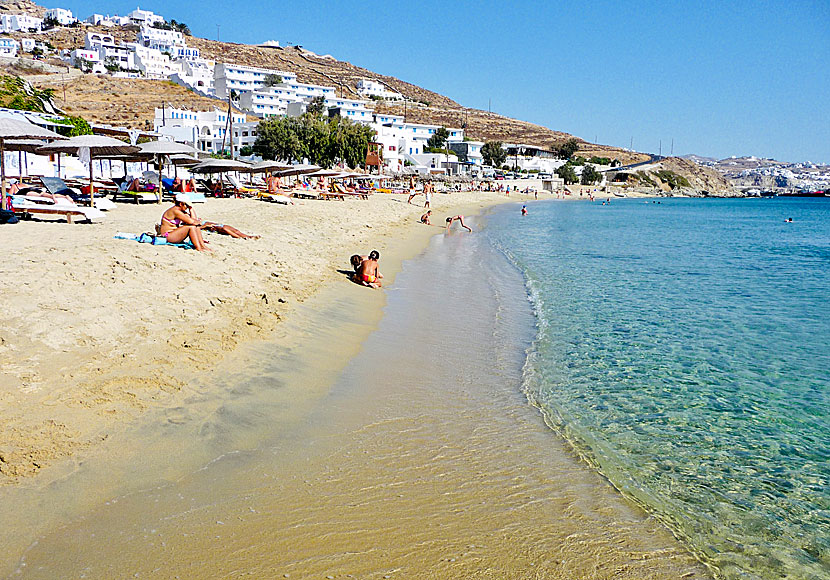 Agios Stefanos is the best beach near Mykonos Town.
When I first travelled here (early 80s), Mykonos was one of the hottest destinations in Greece. It was by the time when Mykonos began to attract gay tourists and the island went from being a beach paradise to a chick island with exclusive hotels, fashionable fashion boutiques, trendy restaurants, bars and discos.
Mykonos is still a playground within the gay culture, but not nearly as it was in the 1980s. I think that the reason why some tourists avoid going to Mykonos is due to the stubborn rumours that the island is expensive. Okay, it's not just a rumour, Mykonos is generally more expensive than most islands. But you do not have to eat, drink or stay expensively, if you do not really want to, there are cheap alternatives if you're just looking for them.