Excursion boats starts out from Adamas and they runs every day. There are several boats to choose from, including a small catamaran and a couple of sailboats. Personally, I prefer the slightly larger boats. The advantage of going with the smaller boats is that you come closer to the attractions.
No matter which boat you choose, you will visit about the same places: Vani, Sikia, Kleftiko (swimming), Tsigrado (possibly swimming), Kalamos (possibly swimming), Paliorema, Kimolos (two hours for lunch), Glaronissa, Papafragas, Kapros, Sarakiniko, Firopotamos, Plathenia (possibly swimming), Arkoudes and Klima. The tour takes about nine hours including lunch on Kimolos.
A piece of good advice: do not wait, go as soon as you can, because if the wind is rising, which is not unusual in the Cyclades, the boat tours is cancelled.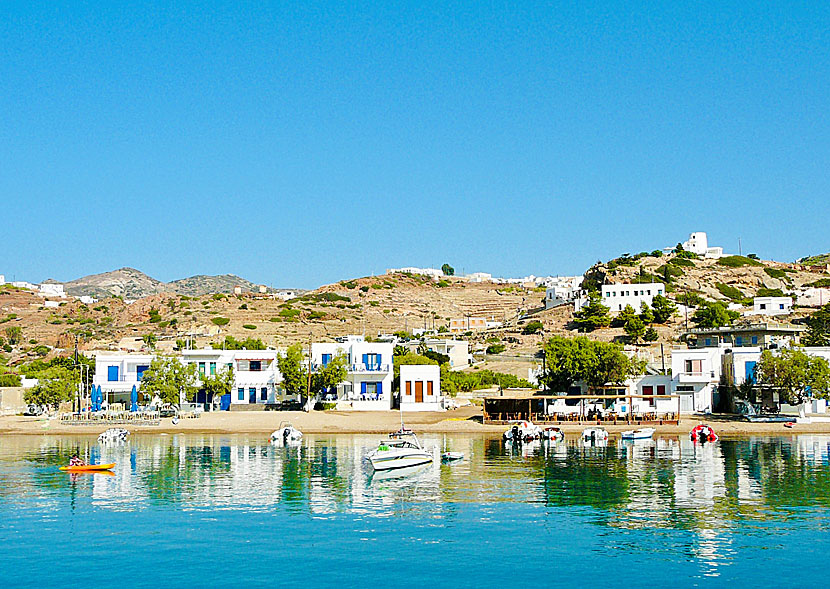 Do not miss a day trip to the small cozy Kimolos.
BY FERRY
You can travel to Kimolos on a daytrip. Read more about that here.
BY SEA KAYAK
Sea Kayak Milos offers excursions by kayak around Milos and Kimolos. One will come so much closer than from an excursion boat. Besides you can choose where to stop for a swim. Read more on the website of Sea Kayak Milos.
HIKING
Milos is a okey hiking island, So if you like to hike you might like Milos.