One nice hike begins in Filakopi, or at Papafragas, and ends in Adamas. Take the bus to Pollonia and ask to get off at Filakopi or Papafragas. Almost the entire hike goes along the coast, on the way you will pass Sarakiniko. It is a nice hiking route in a different surrounding, and it is close to a cooling swim.
Beautiful and hiking-friendly landscape below Plaka.
Another hiking route begins in Adamas and takes you along the coast and then up into the mountains and further down to Klima. From Klima you continue up to Tripiti, on the way you can visit the catacombs, the Roman theatre and the place where they found the Venus de Milo.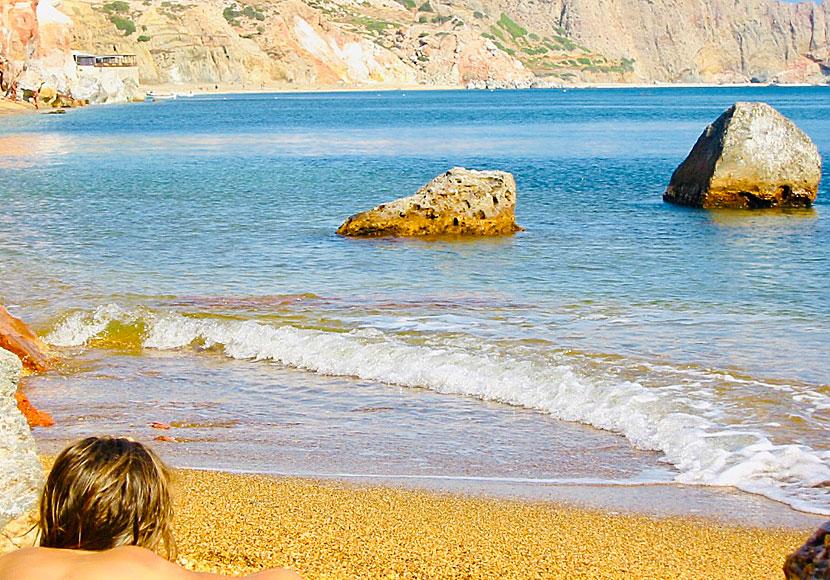 If you do not want to hike, you can watch the sea, like here at Paleochori. :-)
If you are going to hike on Milos, I recommend Terrain maps' (also called Skai Maps) map of Milos. The scale is 1:35,000 and the map describes four hiking routs on Milos and one on Kimolos. The map is available for purchase on Milos. I can also recommend the hiking book Santorini, Sifnos, Western and Southern Cyclades by Dieter Graf. The book describes four hikes on Milos in detail. The book could possibly be available for purchase on Milos, otherwise you will find it on the larger islands, or buy it on internet.