As I mentioned earlier, Milos' coastline is an attraction in itself. But there are also other attractions, such as the unique catacombs, the ancient theatre and the site where they found the statue of Venus de Milo, all are located below the village of Tripiti so you do not have to go around the island to see the island's main attractions. There are also some interesting museums, for example the Mining Museum in Adamas. And also the settlement of Filakopi as you can read about here.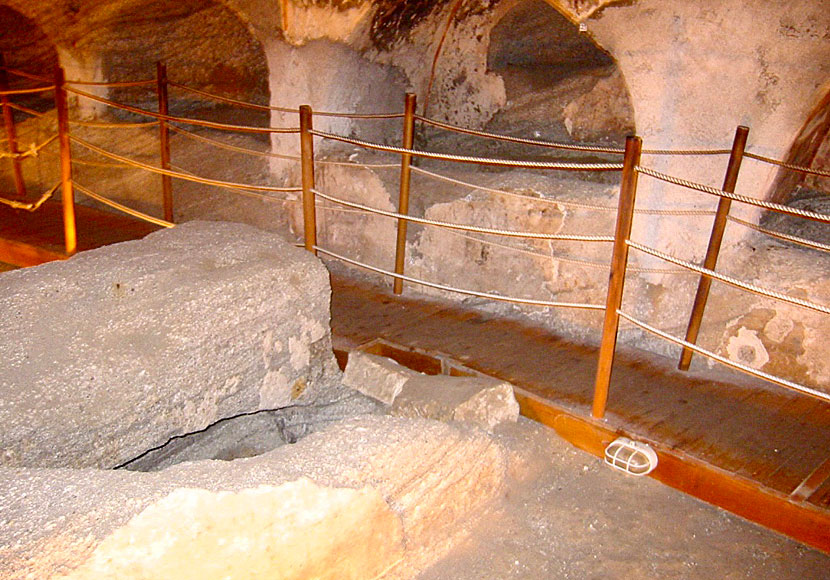 The catacombs under the village Tripiti.
Catacombs are underground burial places, often with an extensive network of carved passageways, that Christians used in Roman times. It is also in Italy (Rome) that most of the catacombs can be found. Milos' catacombs are located just below the village of Tripiti (well signposted).
The catacombs are Milos' largest historical attraction and the subterranean passageways are well worth a visit. The catacombs are thought to have been in use between 200 BC to 400 AD. They were rediscovered in 1844 by the German archaeologist Ross. The catacombs were probably destroyed in one of the many earthquakes that hit Milos.
Today, visitors can see parts of the catacombs. Wooden steps leads down to the ancient tombs. It's a strange feeling, the silence (deathlike silence!) is total, the atmosphere is a little creepy, and it's cold as in the grave. Open every day 8:00 to 15:00, except Mondays.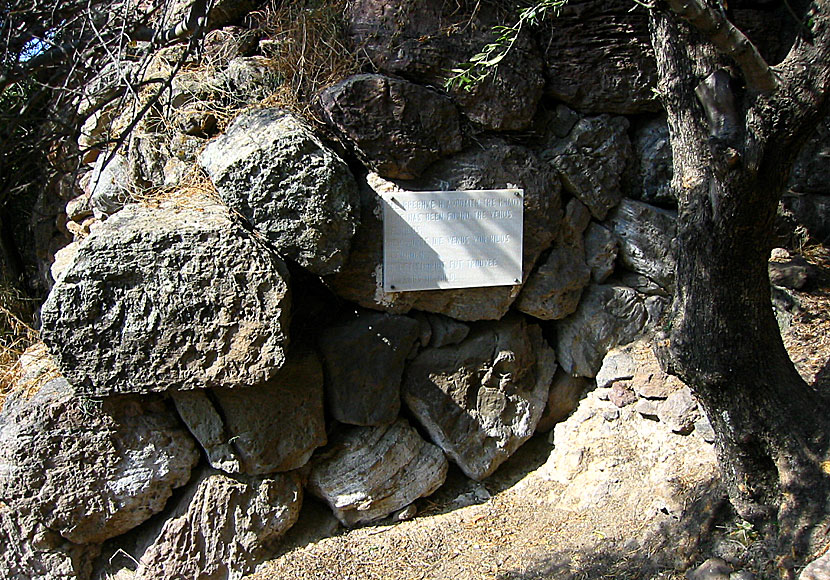 The place where Venus de Milo was found.
Venus de Milo is one of the world's most famous statues. The 204 cm high statue, which is believed to have been created between 150-100 BC, was found by the farmer George Kentrotas when he ploughed his field on 8 April 1820. He informed the authorities and when all parts of the statue was found they were shipped to the Louvre Museum in Paris (it is believed that the arms disappeared on the way). And the Venus de Milo is still today on display at the Louvre.