At the far end of the seafront is an mediocre pebbly beach. Above the beach is a privately owned pirate museum (the only one in Greece, according to the owners), which is well worth a visit. The museum displays lots of things from the time when pirates ravaged the Greek waters. Parts of the museum is about the history of Alonissos. Of the many interesting objects there are a few that stand out a little extra, including shoes made of skin from a monk seal. There must have been plenty of monk seals before. The production of wine also have an important place in the museum.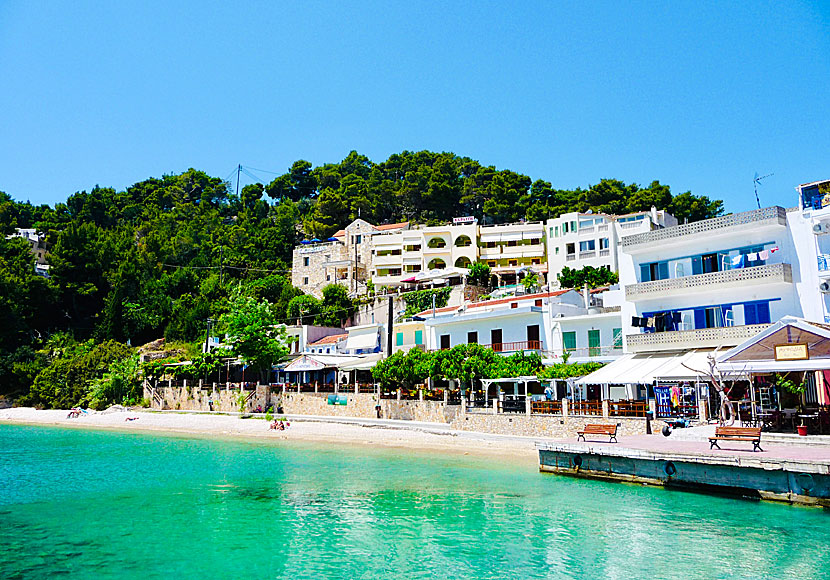 The beach in Patitiri. Pirate Museum is located at the top left
Alonissos was previously a major producer of wine but a bacteria destroyed all the grapevines in the early fifties. Incidentally, Patitiri means winepress in Greek. The Pirate Museum is open every day between 11:00 and 19:00. Entrance costs about 4 €.
When you get tired of the museum you can improve yourself at the information centre of the monk seals at the waterfront. You can see a film about the monk seal, look in books, studying wall charts and buy T-shirts, key rings and mugs with prints of monk seals. There is also information about how you can help the association MOM in their efforts to help the monk seal to survive as a species. Read more about MOM on their website »
ACCOMMODATION IN PATITIRI
There is a wide range of accommodation in Patitiri and in the neighbouring village of Roussoum, within walking distance from Patitiri. We always stay at Pension Ninna on a hill above the port. The view over the bay is magnificent. On the same hill there are other hotels and pensions, most of them are good, and have the same great views.