Santorini is one of the most accessible islands amongst the Greek islands, choose between charter flights, international flights, domestic flights or ferries. The island is perfect to use as a base when you are island hopping: the boat connections to other islands is extraordinary, it is easy to get to and from the island, and of course Santorini is also well worth seeing.

BY CHARTER FLIGHTS
Santorini is a popular island for package tourism and it is possible to go here from many countries, check with a travel agency in your country.
Common charter destinations are Fira, Firostefani, Imerovigli, Kamari, Perissa, Perivolos and Vlychada.
Be prepared for long queues at the airport of Santorini when you are going home, because there is really no room to swing a cat at the check-in counters. At the airport there is a coffee shop with scandalous prices and a tiny "duty free shop" where you can buy sweets, perfumes, souvenirs and alcohol.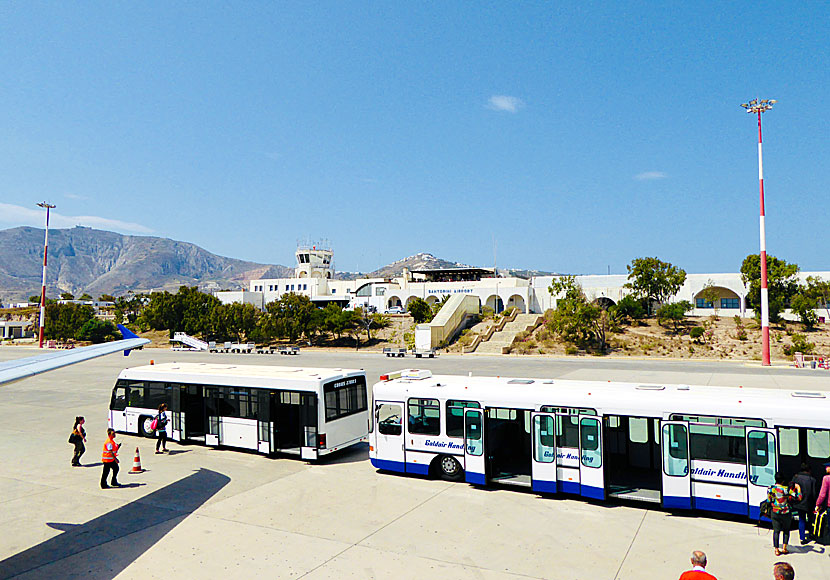 The small airport in Santorini.
BY INTERNATIONAL FLIGHTS
Seats on charter flights to Santorini can be sold individually through a charter company. Another option is to buy a flight-only seat to Athens and continue by ferry or domestic flight. Or you can go by air to Rhodes, Mykonos and Crete. Rhodes and Crete have both air connections and boat connections with Santorini, while Mykonos only has boat connections.
Learn how to get to and from the airport here »
BY DOMESTIC FLIGHTS
Santorini has daily plane connections with Athens and Crete, as well as a few flights a week to Rhodes and Thessaloniki.