Santorini is a small island to the surface area and you have time to see the whole island in a day by car or scooter. But then you do not have time to enjoy all beautiness, so it's better to take it easy. The traffic is anything but calm.
To drive around Santorini with your own transport can be risky, the traffic is in places extremely intense, especially around Fira. The roads are narrow and the number of four-wheelers on the roads are many. An ATV takes as much space as a car, which creates stress among motorists. So you really have to be careful and pay attention to the traffic. Actually you ought to be equipped with three eyes: one to keep an eye on other road users, one to keep an eye of your own car or scooter and one eye that enjoys the beautiful and dramatic scenery.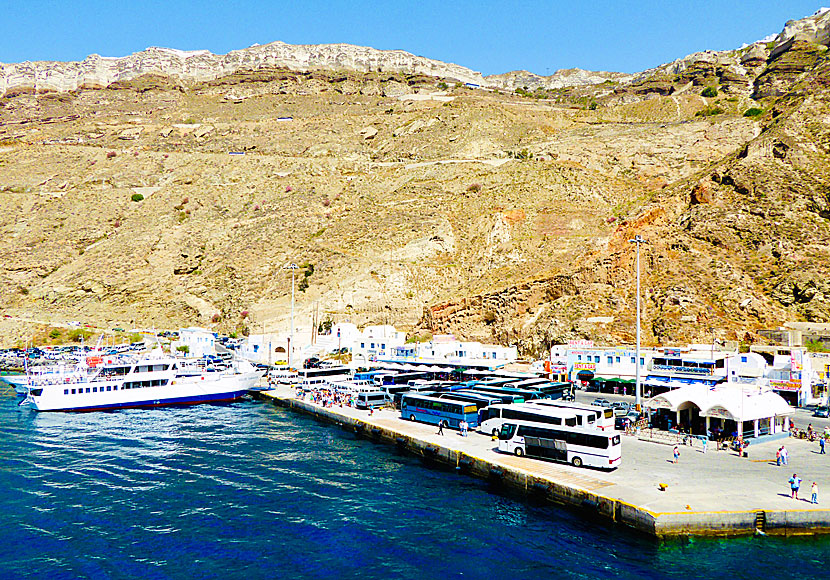 The road down to the port of Athinios. Do you see the buses on the road?
If you can not or do not want to discover Santorini with your own transport, you can choose local bus, taxi, tour bus, excursion boat, beach boat or cable car.
BY SCOOTER AND CAR
Car and scooter rental places are available in all tourist resorts, competition is severe so it always pays to go to several places. A very good and reputable rental place is MOTOmani in Perissa. Markos who runs MOTOmania is not only serious, he is additionally super friendly! MOTOmania is located near the camping in Perissa, if you do not find it, ask your way. Phone: +30 6972083478. Website: www.motomania-santorini.com