Vlychada is not nearly as exploited as Perissa and Kamari, and there are not as many people here. From Vlychada it is open sea all the way to Crete. Swell waves are sometimes breaking at the beach. Great fun if you, like me, like to go surfing on your belly. But no great fun if you are afraid of high waves.
In the fishing port itself, it is a quiet and calm and you feel far from the brisk trade in Fira. Colourful fishing boats, expensive yachts and an occasional duck intermingle in the port. There have been plans of building a new port in Vlychada for many years, a port that would replace Athinios port, which is a good port, but lousy when it comes to logistics. But it will probably never happen. And that is good, because then the beach in Vlychada would not be as attractive anymore.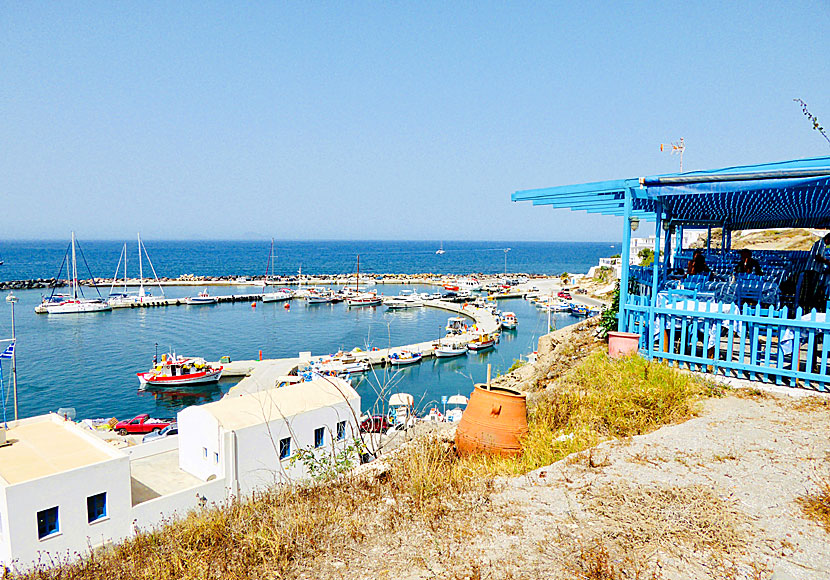 The port and marina in Vlychada. Here are several tavernas.
There was a terrible storm in Greece in the winter of 2004. In Santorini, it was cold as hell and it snowed for the first time in 20 years. High waves was washed against the coast just south of Vlychada. I have friends who have a holiday home in the vicinity, below their house there was a small beach. But no longer, the waves moved the sand a few hundred meters away and formed a new beach.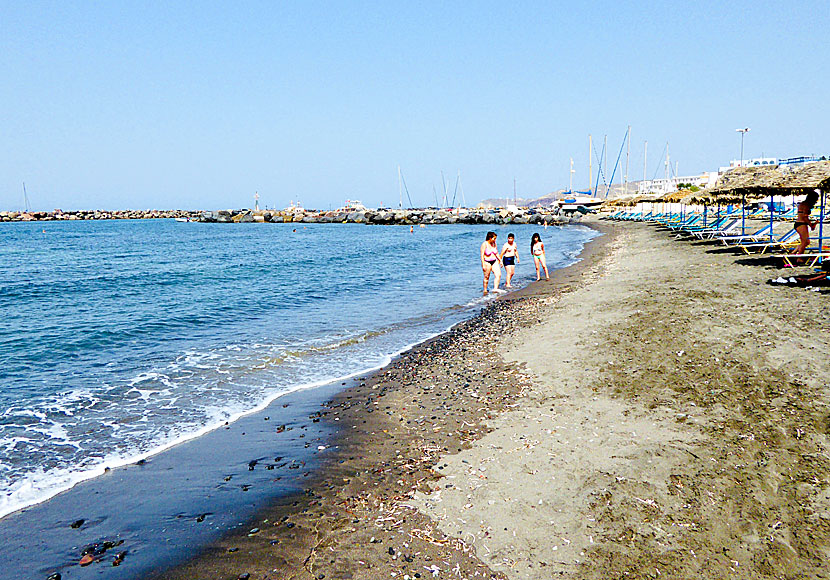 Tropical beach in Vlychada.
An enterprising guy planted some palm trees on the beach and named it Tropical beach. Then he rented out sunbeds and umbrellas and in that way he made a bit of cash on the storm. Today are the palm trees gone, but the beach is still there. It is one of the few shallow beaches in Santorini and is suitable for families with children. The beach lies just beyond the fishing port.
ACCOMMODATION IN VLYCHADA
Vlychada is quite unknown, maybe that is why there is just a few hotels and pensions in Vlychada. There is some package-tourism from some countries. If you like peace and quiet, proximity to good tavernas and beaches, then Vlychada is a perfect destination. If you are travelling independently I recommend Villa Michalis just above the beach.