The best way to get to know this beautiful island is by a private vehicle. Some road sections are among the most beautiful I have seen, as the road between Argostoli and Fiskardo. Also the road between Fiskardo and Agia Efimia is fantastically beautiful. If you are not able - or want - to rent a car or moped, you can do a guided tour around the island by bus.
BY SCOOTER OR CAR
A large island like Kefalonia is not suitable to drive around by scooter, car is definitely preferable. But if you only are going to see the surrounding neighbourhood where you stay, like around Lassi or Skala, then a scooter is a good way to explore the area. But to see the whole island with a scooter can be quite exhausting. Scooter and car rental places are available in all tourist resorts. It is a keen competition so it may pay to ask around.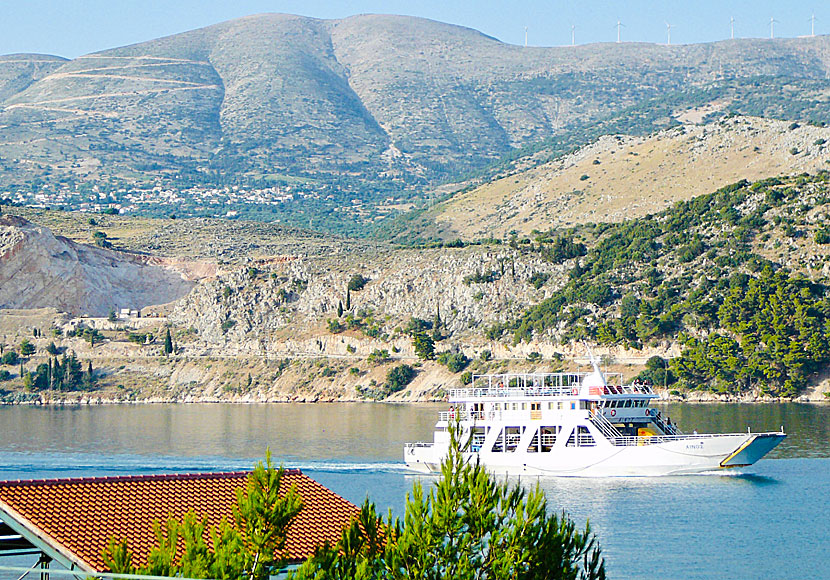 The ferry that runs between Argostoli and Lixouri peninsula.
BY BUS
A well-developed bus network connects virtually the entire island. Argostoli is the major hub for nearly all buses. The bus station (KTEL) is located south of the centre (after the bridge) in Argostoli. There are bus services to Fiskardo, Poros, Skala, Sami, Kourkoumelata, the Monastery of Agios Gerasimos, Lassi and Agia Efimia. Of course the buses stops in many places along the way. There is also bus services between Poros and Skala, and between Sami and Fiskardo.
BY TAXI

Taxis on Kefalonia is wine-red and easy to find. Telephone number: 26710-22700.
BY FERRY
Instead of driving, you can go by ferry from Argostoli to the peninsula of Lixouri. The ferry runs every half hour from early morning until midnight. The voyage takes about 20 minutes.