The diamond on the northern Ithaca is called Kioni, and it is just as nice village as Vathy, though on a smaller scale. The village is surrounded by lush greenery and turquoise water in a horseshoe-shaped bay. In the water the fishing boats and sailing boats rock along. The small waterfront promenade is lined with several tavernas and a few cafes. Kioni is incredibly nice, and I could image to stay here a week or two. There is even a small pebble beach if you want to have a dip.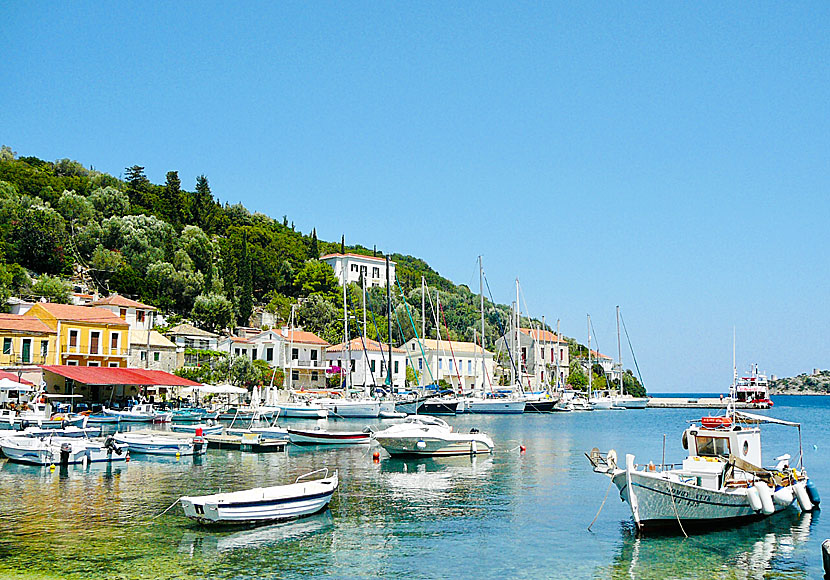 The cozy village of Kioni on the north Ithaca.
The other villages in the north of Ithaca are so small that they are barely visible. Except from Frikes that revive when a ferry pull in from Lefkada or Kefalonia. Here is a small beach and a few tavernas, including one called Penelope.
The villages of Exogi and Kolieri may be small, but interesting nevertheless. In both villages there are remarkable monuments and sculptures. In Exogi there are some pyramid-like rock formations. Why they stand here, I have no idea about. In Kolieri there are a collection of monuments, sculptures and olive presses. There is even an obelisk. It is dedicated to all parents in the world. On a rusty thing that probably has been an olive press, it is to be read: The only monument in memory of a lunatic.
BEACHES IN ITHACA
Beaches are not Ithaca's strong point. If the beaches were on the same high standard as on Kefalonia, Ithaca would have been invaded by tourists. The water is nevertheless fantastic, so it doesn't matter that the beaches are not so good. There are no sandy beaches, only pebbles are offered.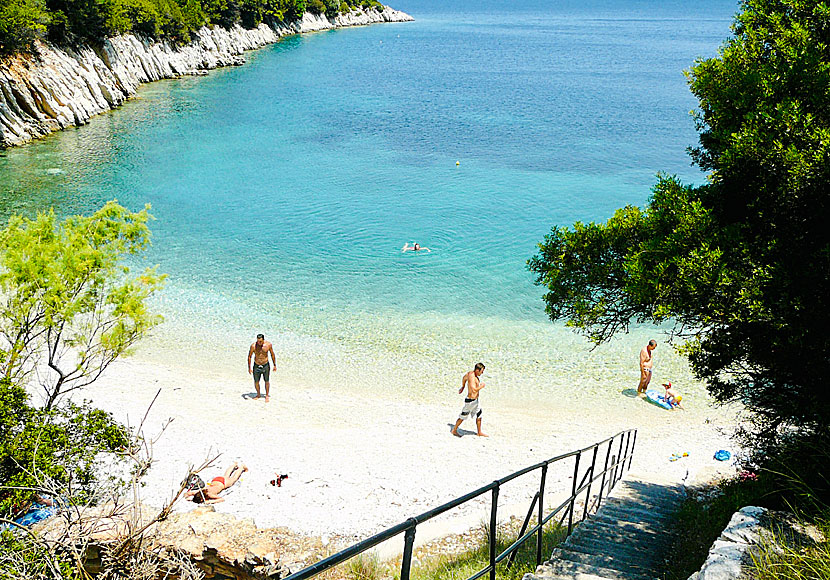 One of the beaches around Kioni.
Where Ithaca is at its narrowest is Dexa beach, which is said to be where Odysseus went onshore when he came home from the war in Troy. As a beach it is not much to see. That is, however, Polis beach from where it is said that Odysseus left from Ithaca when he went to Troy to make war. Polis beach is considered by many to be the best beach on Ithaca.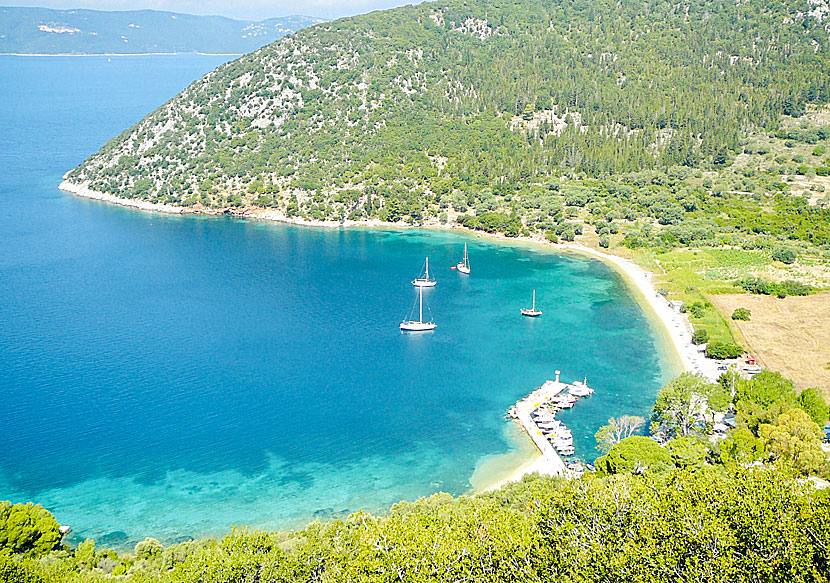 Others think that Gidaki beach is the finest. Gidaki is located northeast of Vathy and is accessible only by boat. I prefer the beaches around Kioni. There are many small beaches around the island, so you will surely find your own favourite. I like the small beach Filiatro which is very beautiful.