Serifos is a quite small island in area, 73 km2, making it the thirteenth largest island in the Cyclades, and about five times smaller than Naxos, which is the largest island in the Cyclades. The highest mountain Troulos measuring 583 metres above sea level.
The beautiful Livadi bay.
Geographically Serifos is located in the western Cyclades, the nearest neighbouring islands are Sifnos and Kythnos. About 1,400 people are permanent inhabitants, most of them lives in Livadi (600 inhabitants) and in Chora (360 inhabitants). The main occupations are fishing, agriculture and tourism.
Secluded Serifos is something of a mystery. Why are there so few island hoppers travelling to Serifos, and so many that are travelling to the neighbouring island of Sifnos? It's a pity, Serifos is similar to Sifnos and should attract more tourists. The island has a number of nice beaches of different character, here is a landscape that really is calling out after hikers, people are curious and hospitable, and the calmness that exists on Sifnos do also exist on Serifos.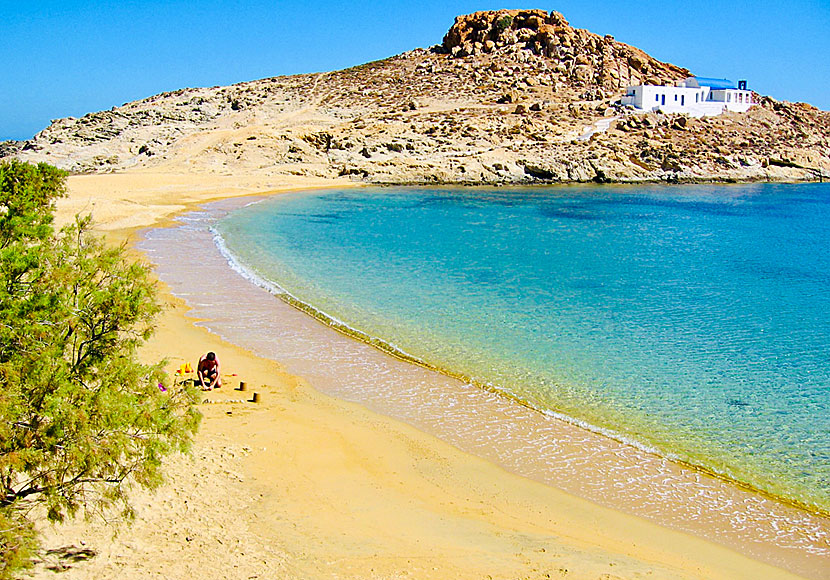 Agios Sostis is one of several child-friendly beaches in Serifos.
When you first arrive at Serifos, it is difficult not to be impressed by the wonderfully beautiful village of Chora perched on the top of the hill above the port. It is one of the Cyclades most beautiful villages if you ask me. In short, Serifos is an island longing to be discovered.
One category of travellers who really should appreciate Serifos is families with children seeking serene islands with beachfront accommodation and child-friendly beaches.