The village is built like a labyrinth and it takes a long time before one learn how to find the right way. To not get lost, is a feat. The innermost parts of the village are free of motor traffic, transports are done by donkeys or, where it is possible, with small motorized cargo trikes. You can compare Chora with Mykonos Town, the differences between the villages are that Chora on Ios climbs a hillside, while Chora on Mykonos is flat as a pancake, and there is still a Greek everyday life in Chora on Ios. Mainly in the upper parts of the village. But just like on Mykonos, large parts of Chora are occupied by restaurants, bars, discos and boutiques.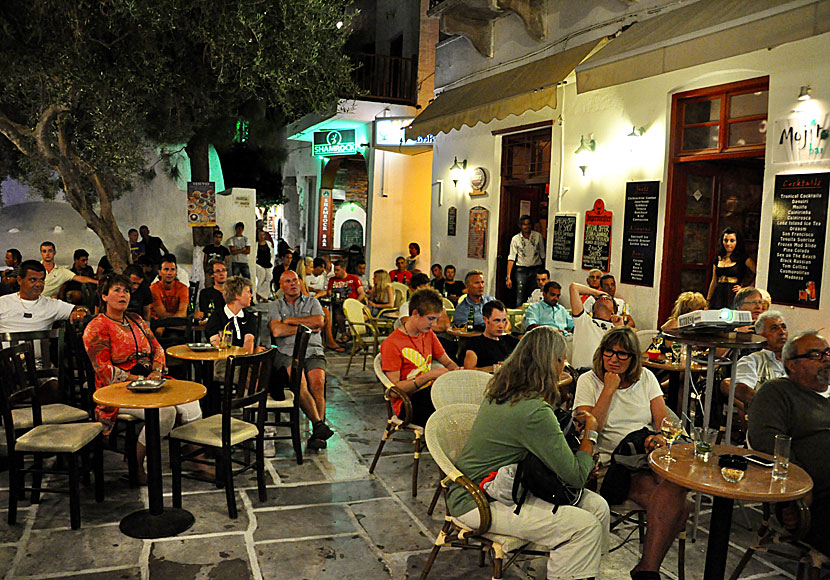 The narrow main street meander through the village, it starts in the square right next to the great cathedral and ends at the impressive windmills. About in the middle of the main street lies Ios' great meeting place: The Square. Everyone passes The Square sometime during the day. It's more than crowded during high season, it is so crowded that sometimes it's not even possible to pass.
There are four bars in the square, if you like to people-watch, it is here you should have a drink or a cup of coffee. During the off season, the Greek old men take back their square and then you get a clue about how life was in the square before the tourists took over.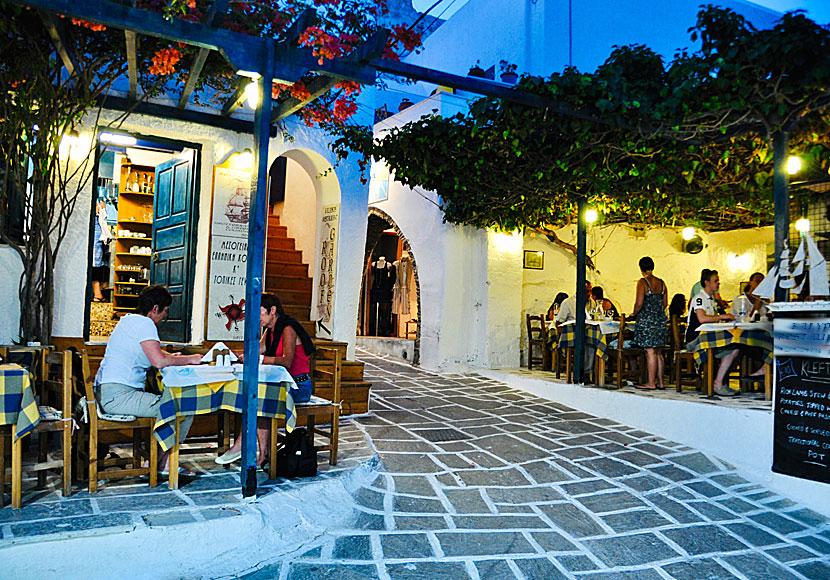 One of many cozy alleys in Chora.
There is one thing I miss in Chora, I would like more eateries with outdoor seating. The fact that many restaurants only have tables inside have a natural explanation: there is simply no room in the narrow alleys.
Some of the exceptions are Kalypso and The Mills. I think that The Mills is one of the best tavernas on Ios. Here you can browse through the Greek cuisine at its best. It is not just the food, the restaurant lies under the magnificent windmills at the other side of Chora, which makes the dinner even more enjoyable. The nice owner Kyriakos is also one of the reasons to go here. Kalypso is located on a small square in the lower part of Chora. Also here they serve Greek food, sometimes good, sometimes not as good. The location is perfect if you like to people-watch.
Restaurant The Mills at the windmills in Chora.
My absolute favourite restaurant on Ios is Ouzeri Katogi. The food is delicious and really worth its price. To get there you start from "The Square" and follow the main street until you see steps leading down to the right (the alley turns all at once to the left), here it is. Do not miss eating at Ouzeri Katogi.