The roads are usually in good condition and the traffic is shifting from chaotic intensive to nonexistent. It is most confused in and around Mytilini, where it is not fun to drive your own vehicle. The same applies to the route to and from Plomari. You can go by bus between the villages if you do not want to rent a car or scooter.
BY SCOOTER AND CAR
Rental car is a must if you want to discover more than the immediate surroundings. If you stay in for example Anaxos, Petra or Molyvos, it will do just fine with a scooter. Car and scooter rental places are available in all major tourist resorts.
The distances do not appear to be so long when you look at a map, but the roads are winding and takes time to drive. But it does not matter, because the landscape is varied and extremely beautiful. For example, if you are going to drive between Vatera and Plomari and look at the map, it looks like it is not far at all, but it certainly is.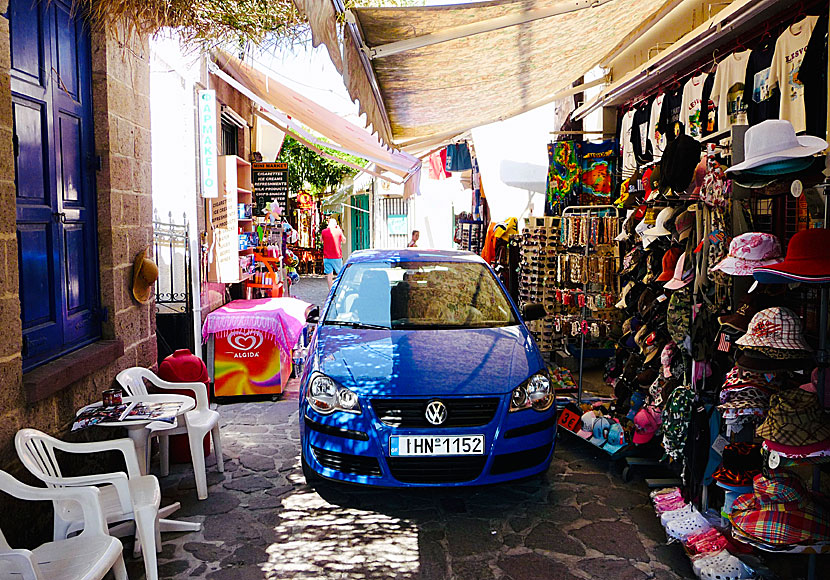 The roads can be narrow, like here in Petra.
Unless you choose the dirt roads over the mountains, it's also possible, but it is exhausting. When we were here for the first time we drove 800 kilometres in nine days, it's quite far. But then we drove around the whole island, and you do not have to do that unless you have to.