Should you be tired of sunbathing on the beach, there are travel agencies that organize excursions, including day trips to Turkey, Jeep safaris, bus tours around Western Lesvos, boat excursions with BBQ, as well as sunset tours by boat, including to Skala Sikaminias.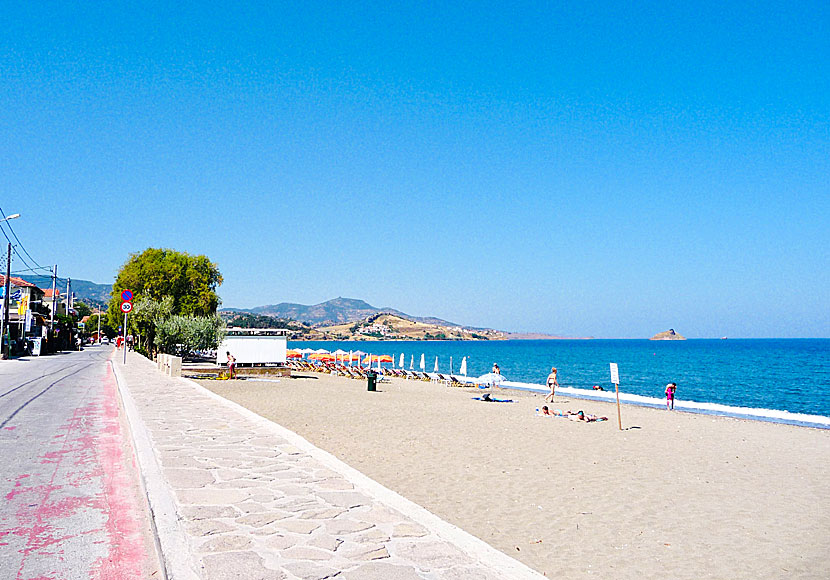 The beach of Petra in the other direction.
When you have travelled in Greece a few times, you begin to recognize some of the names of some places. Most often, these names have a meaning, here are some examples: Skala (port), Psili Amos (fine sand) Akrotiri (peninsula), Paraskevi (Friday), Agia Anna (Holy Anna) and Faros (lighthouse).
Petra is also such a name, it means rock in Greek and of course there is a rock in the centre of the village, it is visible from far away and can not be missed. At the top of the rock there is a church called Glykfylousa Panagia. It is reached via 114 steps. The church does not differ much from other churches, but the view of Petra and the sea is formidable and worth every step.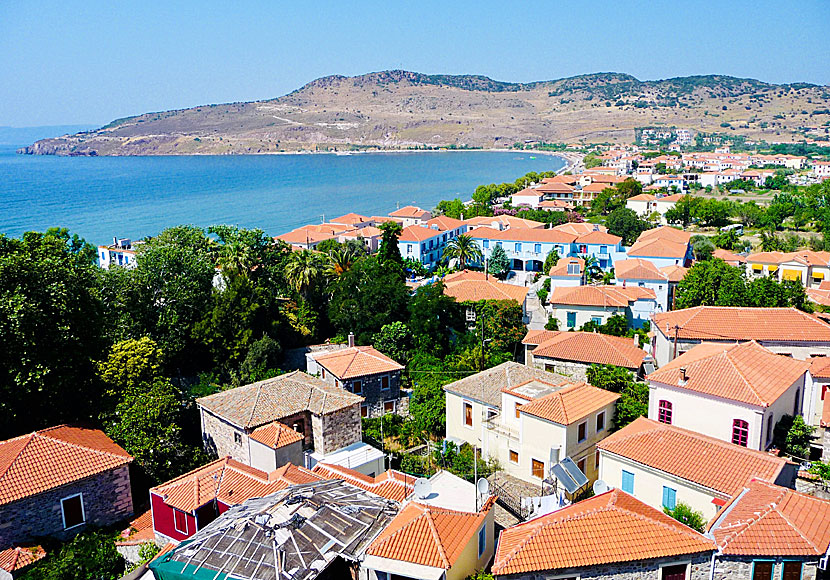 The village of Petra as seen from rock Petra.
According to a legend, a boat anchored outside Petra during a storm in the 16th century. On board there was an icon of Virgin Mary. The morning after it was discovered that the icon was missing. They searched and searched, but no icon could be found. In the evening they saw a strange light on the top of the rock. The captain climbed up and found the missing icon. He brought it back to the boat.
The next morning was the icon missing again. And guess what, it was back on top of the rock. Then they decided to build a church on the rock and keep the icon there. Ever since that day, the icon lives in the church on the rock of Petra. I have read exactly the same story many times, so many that I can not help smiling when I hear them being told. The same story is told about the icon in the Mamma-Mia Church in Skopelos.
ACCOMMODATION IN PETRA
Although Petra is a package resort, there are many accommodation options for those travelling independently. And a good thing is that many places are family-owned, as Niki Studios is a good example of.