BY TAXI
If you do not want to wait for the bus, you can take a taxi. Phone: +30 22860-41048.
BY BEACH BOAT
Small beach boats starts out every morning, in good weather, from the port to the beaches of Katergo, Angali, Agios Nikolaos, Livadaki and Ambeli. Tickets are purchased on board.
BY EXCURSION BOAT
During the summer months there are excursion boats that runs along the coastline of Folegandros. The boats go to known and unknown beaches, and to the caves of Chrisospilia and Georgitsis. Lunch is included. Check with the tour operators on times and prices.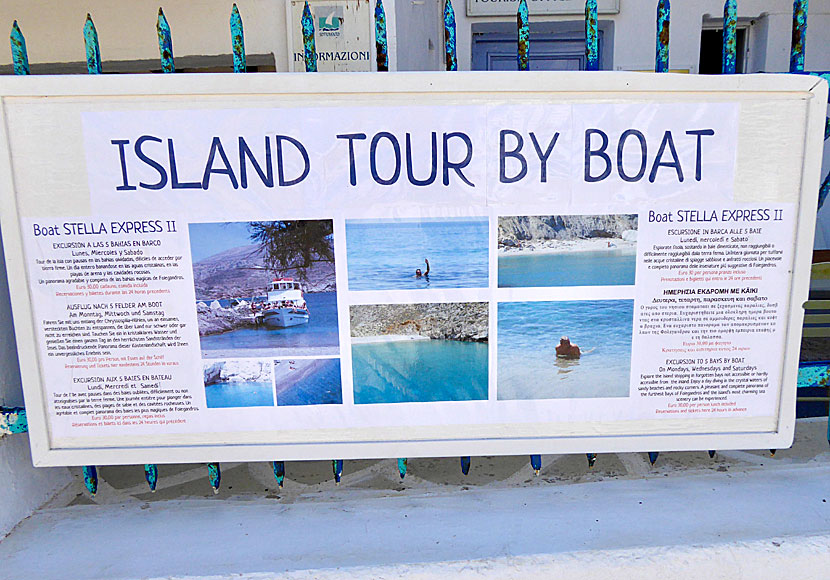 To go on a boat trip is very nice.
Day trips to the neighbouring island of Sikinos departs from the port a couple of times a week. It takes about an hour to Sikinos. Once there, you have 5-6 hours to explore this delightful rural little island. During that time you have time to see most of what there is to see, and to go for a refreshing swim at the beach in the port.
HIKING
Folegandros is an excellent hiking island. And that is one of the reasons why we like Folegandros so much. So if you like to hike you will love Folegandros.