Katergo is in my opinion the best beach on Folegandros - and most scenic. The beach lies below a cliff on the south eastern tip of the island, not far from the small hamlet of Livadi. You can go by beach boat to Katergo, it's quite nice, but not as thrilling as to approach the beach from above the cliffs.
The walk starts below the village of Livadi (not the beach with the same name), where you go with your own vehicle from the port. Where the road ends, a sign point towards a small path to the left. Then you "only" follow the path until you reach the cliff ridge. If you choose this path to Katergo, I can assure you that you will burst out a loud "Wow!" when you gaze at the beach and sea.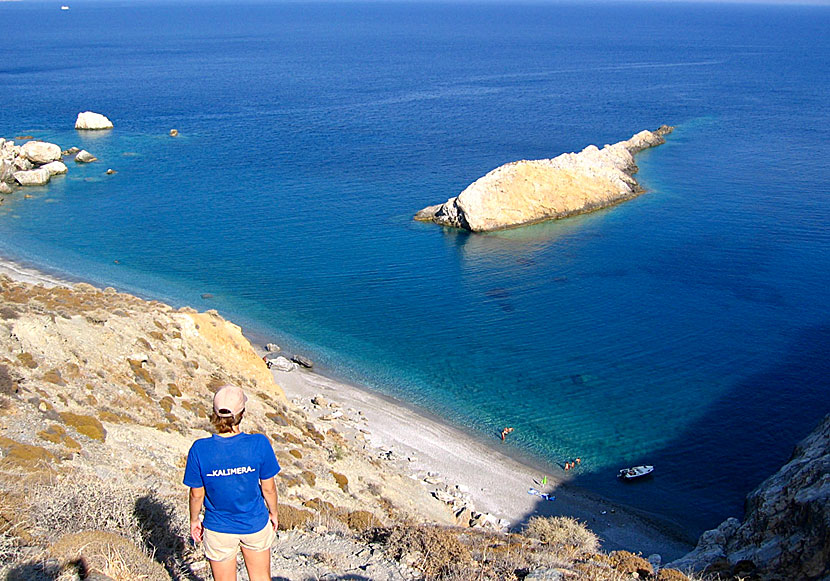 It is difficult to imagine a more stunning view. Below (pretty far below, the cliffs descend abruptly) your feet you will see a long attractive beach and a clear blue sea, in addition is the small island Makri Katergo offshore, and you have an unlikely beautiful picture in front of you.
When you stand up there, you will most likely get the feeling that you want to get down as fast as possible. A part of the brain says, swim now! Another says: how on earth will I get down! The path downhill is steep, really steep. But there are no major problems to get down, it looks harder than it is.