Antiparos has no airport and no regular ferry service with other islands than Paros. It may sound like it's tricky to travel here, but it's not, rather the opposite, it's as easy as pie.
BY CHARTER FLIGHTS
It is possible to go on a package holiday from some countries, but it may be that there are not any representatives from the tour operator located on the island, so it's like travelling independently. The aeroplane come down on Santorini, from there you travel on to Paros, where you change ferry and continue to Antiparos.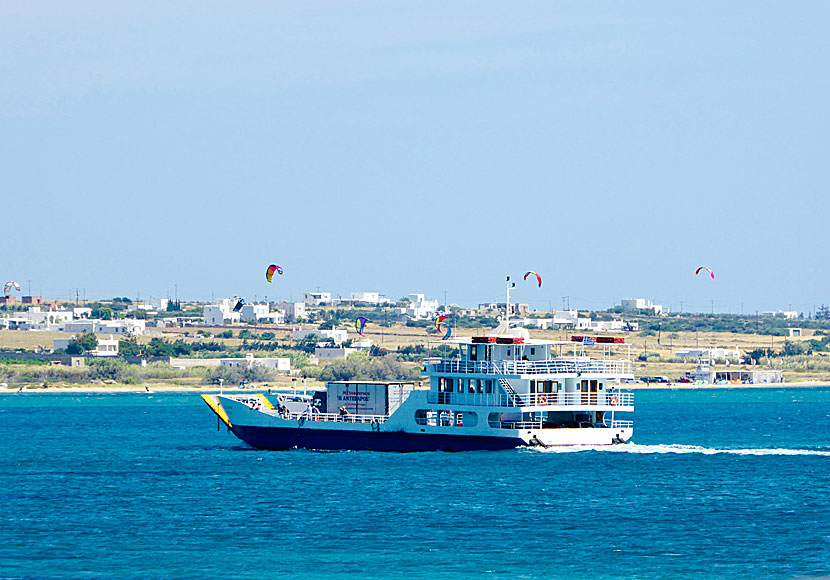 The car ferry that runs between Pounda on Paros and Antiparos.
BY INTERNATIONAL FLIGHTS
The easiest way is to go by air to Santorini, and travel on by ferry to Paros which is the only island that has ferry service to Antiparos. You can also fly to Athens whose port at Piraeus has daily boat connections to Paros. Another option is to go by air to Mykonos which also has boat connections to Paros.
BY DOMESTIC FLIGHTS
The closest domestic airport is located on Paros.
Paros has daily flight connections with Athens. The airport is located in the south of Paros, near the village of Aliki. A new airport, or actually a new runway, opened in autumn 2016. Larger planes are now able to land at the new airport. It might mean that it will be possibly to go by international flights to Paros. Wondering what happens to the island then? Will Paros become a new Mykonos? Those who travels will find the answer.