BY BUS
The island's bus goes to the dripstone cave, and to the beaches on the northern side of Antiparos. The bus departs from the port and turns in Agios Georgios.
BY TAXI
Taxi is not available.
BY EXCURSION BOAT
If you want to experience some really good bathing-places, you can go on a boat excursion around the island. There is surprisingly inviting waters and lovely bathing-places along the coast of Antiparos, and at some of the nearby small islands. The scenery is amazing in some places, the cliffs on the south side of the island makes one think of Santorini's dramatic coastline.
Alexandros, one of the excursion boats (there are other boats), departs early every morning from the port. If weather permits, I might add, it's not uncommon with cancelled boats, so do not hesitate if the weather is good.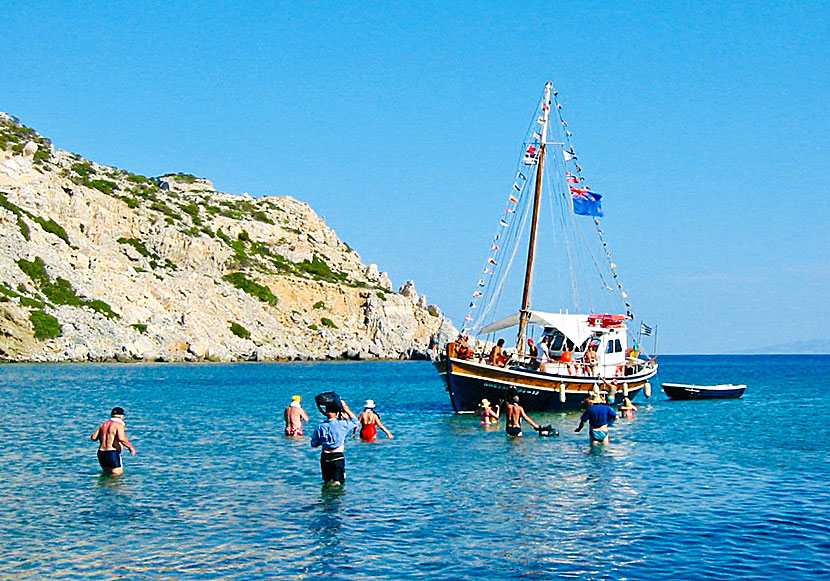 On excursion with the boat Alexandros.
Alexandros makes five stops for swimming: in caves, in clear blue coves and from rocks. Refreshments are served on board, lunch is served on one of the beaches. Lunch may consist of grilled fresh octopus, sea urchin, souvlaki and salad. Very tasty! If you are lucky, you might get the chance to help catching octopus during the trip, but it is best to let the crew take care of the sea urchins.
I really recommend a day trip with Alexandros and I promise it will be a day you'll never forget.
HIKING
Antiparos is an good hiking island. So if you like to hike you will like Antiparos.