It is easy to travel to Syros since the island has excellent communications. The island has both an airport and a busy port.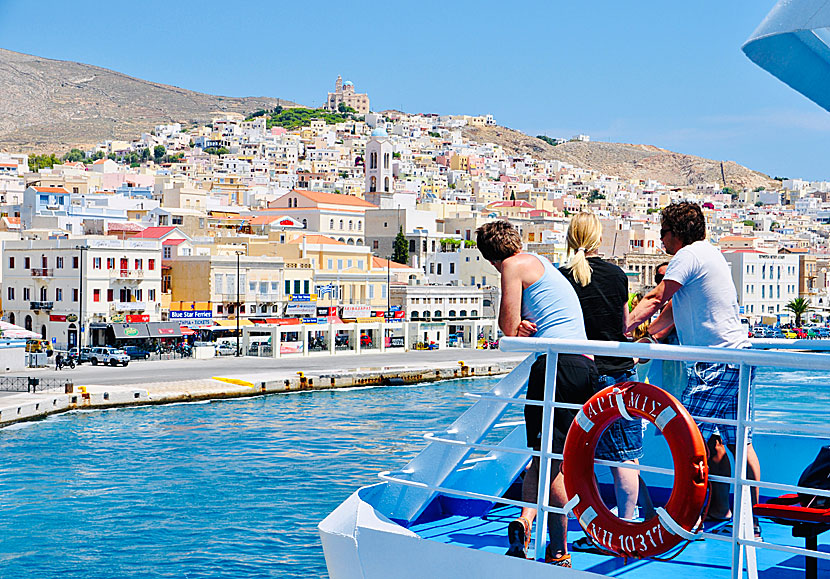 Beautiful view of the port of Ermoupolis from the ferry.
BY CHARTER FLIGHTS
From some countries it is possible to go to Syros on a package holiday. Check with a package-tour operator in your country. Most likely the plane will land on the neighbouring island of Mykonos, and from there you travel on by ferry, a trip that takes about one and a half hours.
BY INTERNATIONAL FLIGHTS
To Athens or Mykonos. From Athens, you can choose to fly on, or travel on by ferry, to Syros. If you continue with domestic flight it departs from the same terminal as you land. If you choose to go by ferry, there are three ports to choose from: Lavrio, Piraeus and Rafina. Bus X96 runs to Piraeus, the journey takes 1½ to 2 hours depending on how much traffic there is. The bus stop is outside the arrival terminal. Tickets are purchased at a kiosk next to the bus stop.
The buses to Lavrio and Rafina departs from a bus stop opposite Hotel Sofitel outside the arrival terminal. The buses to Lavrio and Rafina takes between 30-45 minutes. Tickets are purchased on board. You can go by international flights to Mykonos, it is easiest to take a taxi to the port, which is just outside Mykonos town.