TRAVEL TO CHALKI
Take the plane to Rhodes and then continue by ferry from Rhodes Town or from Kamiros Skala which is located 50 kilometres south of Rhodes Town. Boat connections are also available from Karpathos, Tilos, Nisyros and Symi.
Book ferry tickets online here »
GETTING AROUND CHALKI
A minibus runs between Emborio and the monastery of Agio Ioannis. The bus stops along the way, including at the beaches Pondamos, Kania and Ftenagia and to the uninhabited village of Chorio. There are no car or moped rental services.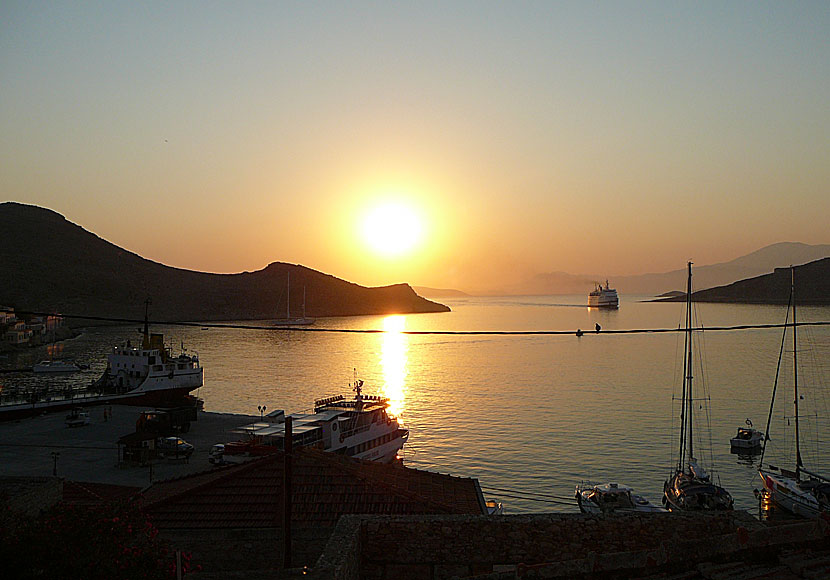 The sunrise is magically beautiful in Emborio.
VILLAGES IN CHALKI
Have you been in Gialos on Symi, you will smile in recognition when you see the picturesque Emborio which is the only village on Chalki. Like Gialos, Emborio lies at a horseshoe-like bay surrounded by pastel-coloured beautiful old rich man's houses, some are renovated, and others are in need of restoration.
The seafront promenade (closed to traffic except when the ferries arrive) is the heart of the village; here are most of the tavernas, cafes and shops. Evenings can be magical, in the sea you see reflected images of the beautiful houses and the many cosy tavernas are to say the least inviting.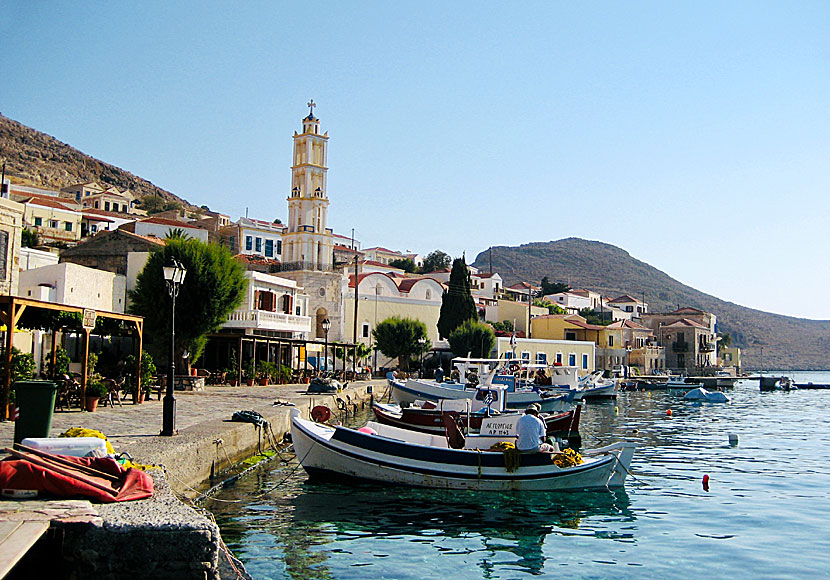 The bell tower in Emborio.
In the far end of the promenade, is a bell tower donated by islanders who emigrated to Tarpon Springs in Florida. The road leading from Emborio to Chorio, however is named Tarpon Springs Boulevard.