It was on Hydra that Leonard Cohen met the Norwegian Marianne Ihlen (born 1935 - dead 2016) who later appears in the song So Long Marianne, and she also is on the cover of Songs from a Room which came in 1969. Cohen also comes to know the Swedish author Göran Tunström and the Norwegian author Axel Jensen on Hydra. At the time both lived on Hydra.
I often listen to Leonard Cohen. Every time I listen to his music, I long back to Hydra. Unfortunately Leonard died November 7, 2016, but his music lives on.
TRAVEL TO HYDRA

Go by air to Athens, and continue by ferry from Athens´ port at Piraeus. Many daily departures. Hydra also has good boat connections with Poros and Spetses, and with Ermioni and Porto Helio on Peloponnese.
Book ferry tickets online here »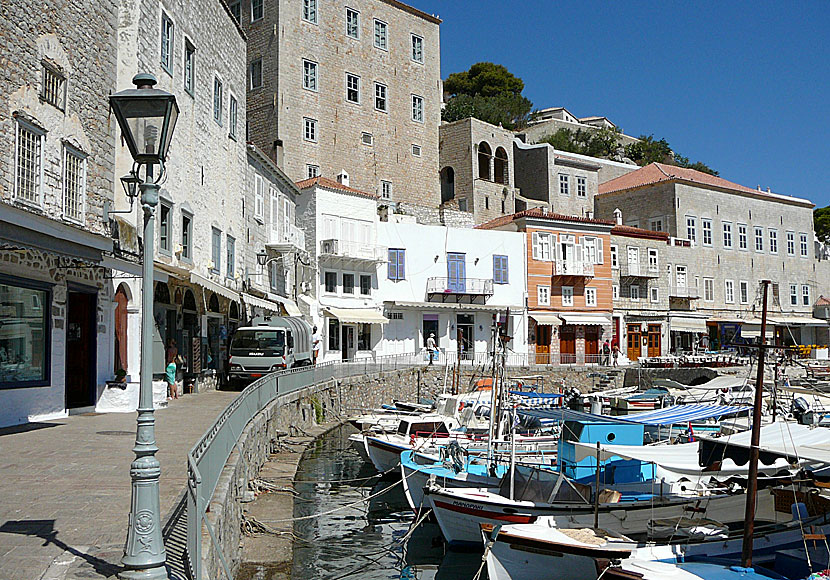 One of the two cars in Hydra.
GETTING AROUND IN HYDRA
On Hydra there is never far from home, so most make their way on foot. Donkey can be rented for those who are not capable of walking, or too tired to walk. For the beaches, there are taxi boats from the port of Hydra.
VILLAGES IN HYDRA
Just as on the neighbouring islands of Poros and Spetses, there is only one village on Hydra. Most things revolve around the enchanting harbour front and the alleyways that lead from the port. Along the quay everything from colourful fishing boats to smart yachts are moored. In one corner is a parking lot for donkeys. Pretty sweet.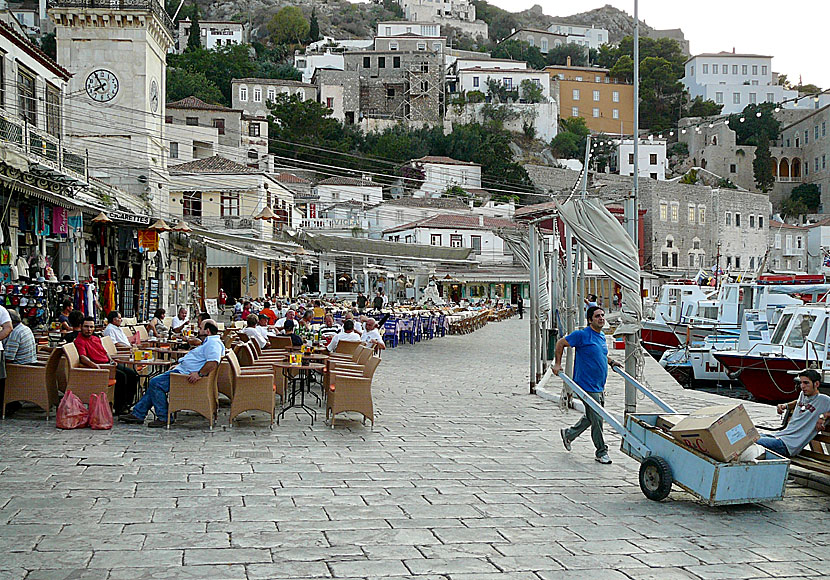 The pedestrian port promenade in Hydra Town.
The U-shaped harbour front is to the brim full of tavernas, cafes, bars and souvenir shops. To sit here in the evening and eat a nice meal, or just for a drink, and watch the sunset is so magical that it almost feels unreal. Even more tavernas are in the cosy alleys where I can recommend Taverna Lulu and Taverna Douskos. On the latter Leonard Cohen used to go to. Just such a thing.