You can read more about Kefalonia via the links at the end of this page. A very short summary of the information comes here:
Kefalonia has an International Airport and that makes is easy to travel here. Especially if it is possible to go on a package holiday from your country, which it is from many countries (check with a travel agency where you live). If your are going to travel independently, the best way is to buy a spear seat directly to Kefalonia through a charter company. Otherwise you can fly to Athens, Preveza (near Lefkada) or Zakynthos.
Kefalonia's capital is Argostoli. Lassi, a few kilometres southwest of Argostoli, is the island's most popular tourist destination. Other very nice villages are Fiskardo and little cute Assos. Other villages are Lixouri, Kourkoumelata, Metaxata, Skala, Poros, Sami and Agia Efimia.
The beaches are among the best in the Ionian islands, almost all are composed of fine gravel or pebbles, but there are also beaches with sand, like Xi beach on the peninsula of Lixouri. The best beaches are Platis Gialos, Makris Gialos, Lourda, Antisamos including the island's most attractive beach: Myrtos beach.
Oddly enough there are almost no sights from ancient time, there are for example no temples. The available attractions are mainly of natural kind, like Drogarati Cave and Melissani Lake. Both are very interesting and should be seen, above all Melissani Lake which is extremely worth seeing. Other attractions are Katavothres and Tzanata tomb.
If you are travelling on a package holiday - which most do - you most probably stay in Argostoli, Lixouri, Lassi or Svoronata. What is best is a matter of taste. If you are travelling independently, you can choose almost any village, but most choose to stay in Argostoli or Lassi where there is a wide range of hotels. To find a place to stay on spot is pretty hopeless. It is best to book in advance.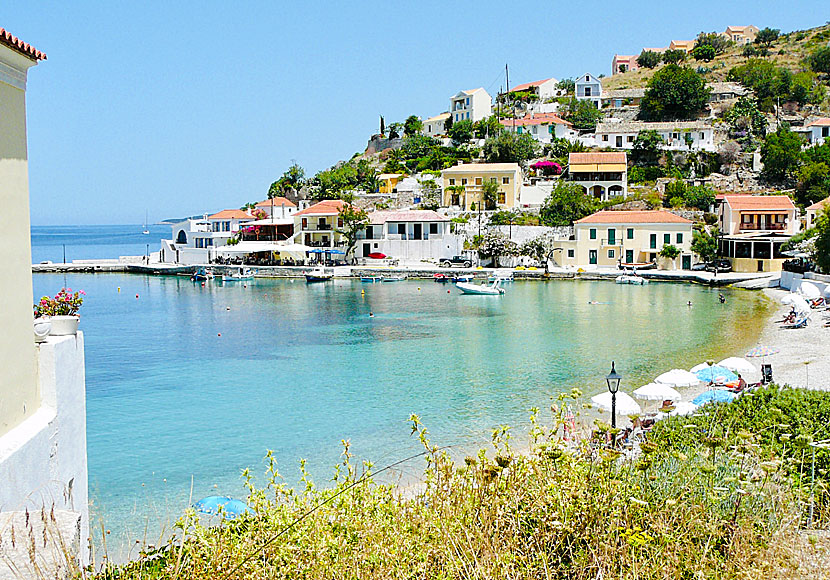 Assos is my favorite in Kefalonia.
Captain Corelli's Mandolin do not have the same appeal today. Instead it is other things that attracts tourists to Kefalonia, such as the lovely beaches of Antisamos, Lourda and Myrtos (see photo above and on the top), the nice tourist resorts of Assos, Skala, Fiskardo and Lassi, the capital of Argostoli, as well as the interesting cave of Drogarati and Melissani lake.