Melissani Lake is undoubtedly Kefalonia's most interesting attraction. Some believe that it is the Cave of the Nymphs that Homer writes about in the Odyssey. Something that is distinctively denied by those who believe that Ithaca is Odysseus's home island, where there actually is a cave called Cave of the Nymphs. What is right or wrong, we'll probably never know.
Anyway Melissani Cave is impressive and a visit is a must when you are on Kefalonia. You must see Katavothres Mill where the water comes from.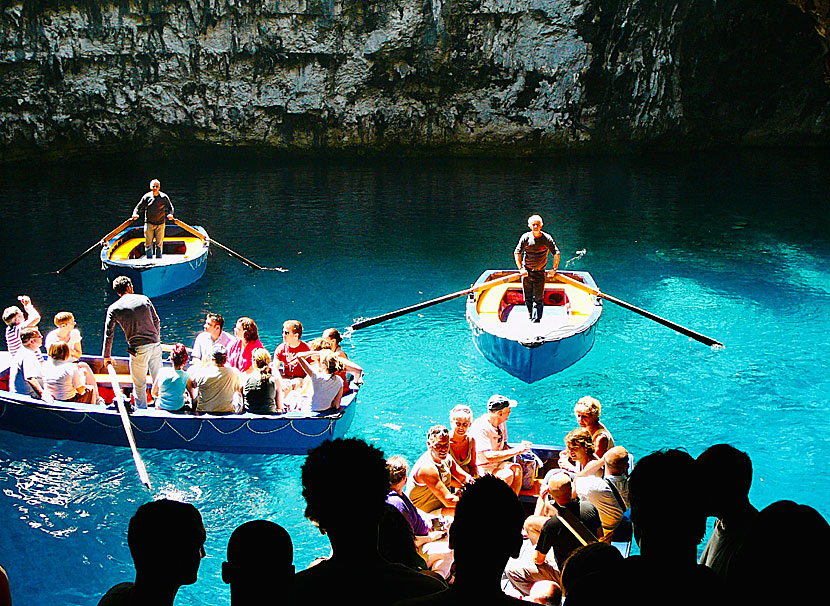 Rowers waiting for customers in Melissani Cave.
The cave - situated about two kilometres west of Sami - has two chambers connected by water. The ceiling of the first chamber collapsed many years ago and formed a hole which today is 40x50 meters. From the hole down to the water it is 25 meters. The sun shines through the hole and into the water and that is why the water is so incredibly blue.
A tour around Melissani lake.
The colour of the water changes during the day depending on where the sun is. It is most spectacular when the sun is at its highest point in the sky. The sea depth is between 10 and 39 meters. The entire length of the cave is moreover 165 meters.