The reason why so many like Psili Amos 1 is that it is a sandy beach, and sandy beaches are uncommon on Samos, where pebble beaches dominate. The beach is extremely shallow, and as an adult you have to walk faaaar to be able to swim. Opposite you can see the coast of Turkey, but it is not possible to walk that far.
However, I think the beach is slightly overrated: there are too many people and the sun beds stands so closely together that you hardly can move. But if you do not care about such things, and like long sandy beaches, you've come to the right place.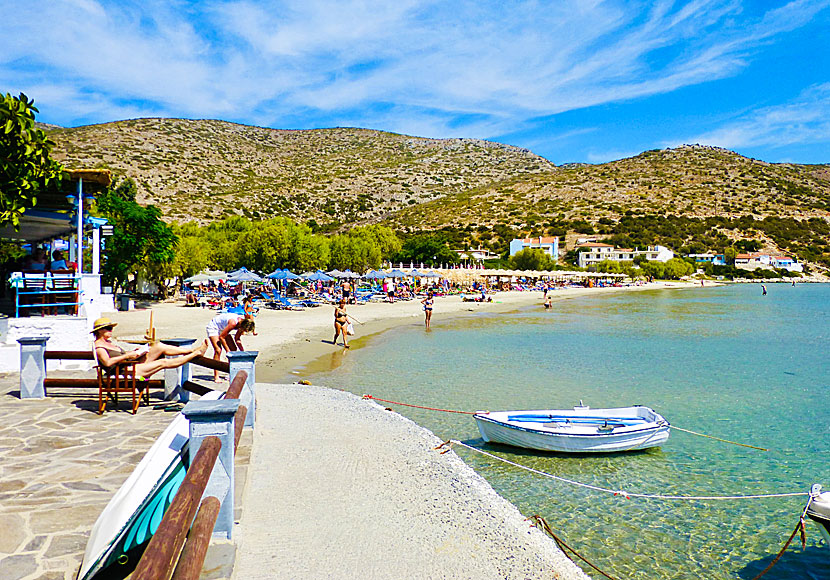 Taverna Psili Amos to the left.
At the far right of the beach lies a good taverna where you easily can spend a few hours enjoying good food and imaginative views of Turkey. That it's so close? By the way, the taverna is also called Psili Amos.
Accommodation in Psili Amos 1
If you want to experience Psili Amos 1 without tourists, you can stay for a few nights. In the mornings and evenings here is calm and quiet and you have the beach almost to yourself.
Book hotel in Psili Amos here »
The extremely shallow and child friendly sandy beach of Psili Amos 1.
Distances from Psili Amos 1: Mykali 8 kilometres, Pythagorion 11 kilometres, Vathy 10 kilometres and Posidonio 13 kilometres.
Do not confuse Psili Amos 1 with Psili Amos 2 in northern Samos.