Pothia is with its more than 12,000 inhabitants the third largest town in the island group of Dodecanese, after Rhodes town and Kos town. Unlike the latter two towns, which are extremely adapted to tourists, Pothia is a town dominated by Greek everyday life. One may resemble Pothia with Athens in miniature, or Ermopoulis in Syros. But unlike Ermopoulis, which is a very smart town, Pothia is not particularly beautiful, rather noisy and intense, Pothia is as it is "for real".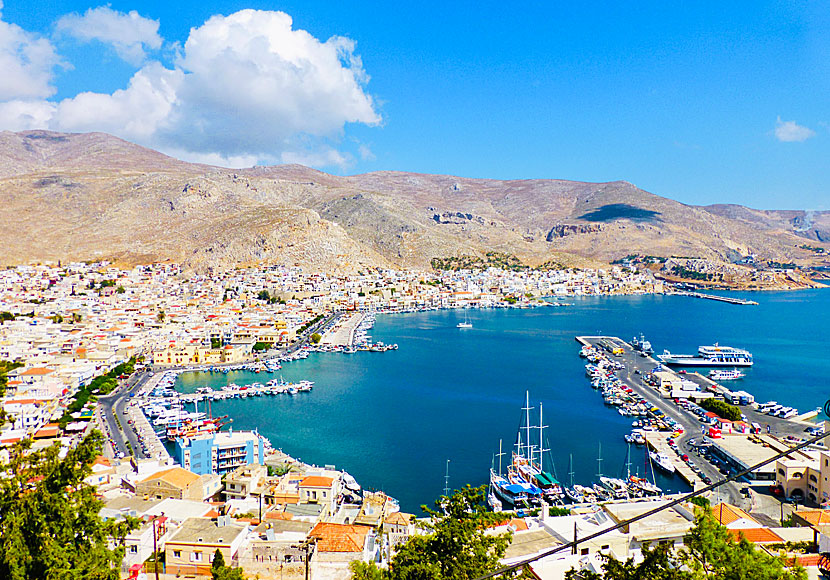 View of Pothia from Agios Savvas Monastery.
The Greek daily life is always present, around the clock, year round. Indeed, there are some knick knack shops and sponge hawkers along the waterfront, but otherwise it is the Greek everyday life that dominates. As a tourist, one disappear in the crowd, especially at night when all dressed up villagers stroll from the alleys to go on their volta, or to have a good time at one of the nice ouzeries.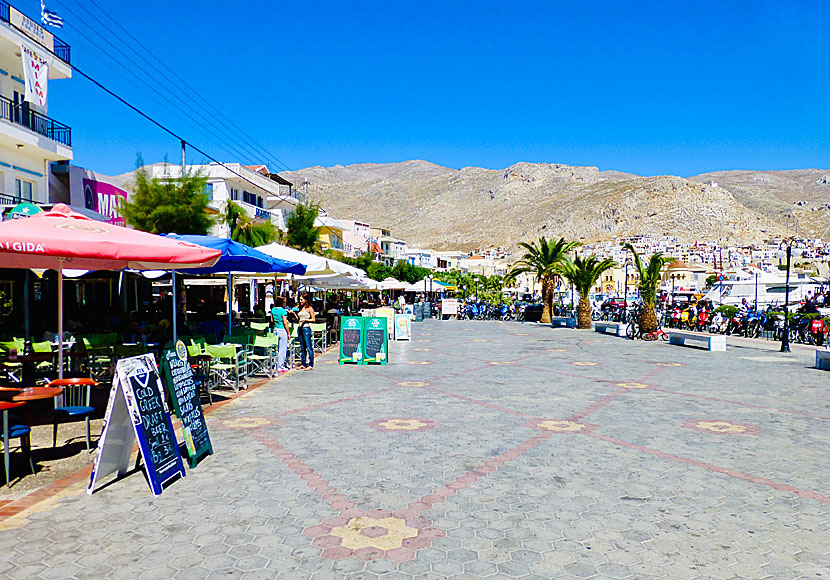 Part of the port promenade in Pothia.
The first time I came to Pothia, I was frightened about all this Greek, for example I disliked that the signs were in Greek, today I think it contributes to the feeling of actually being in Greece. The most Greek part of Pothia is in the area behind the Town Hall and the Cathedral of the Transfiguration of Jesus Christ.
Please go there in the evening just before the sunset and absorb the Greek everyday life: old women and old men on the terraces, cackling hens, suspicious cats, family dinners in small gardens, houses in ruins with magnificent ornaments and doors and windows in all sorts of colours.