The night life is serene and quiet, like everything else on the island. The cosy tavernas at the seafront and along the main street are filled in the evenings by expectant locals and tourists. Not only to enjoy good food and drink, the street life is a part of the entertainment, because on Fourni the life is lived outdoors, to be seated at the seafront and people-watch is like being in a giant Greek living room.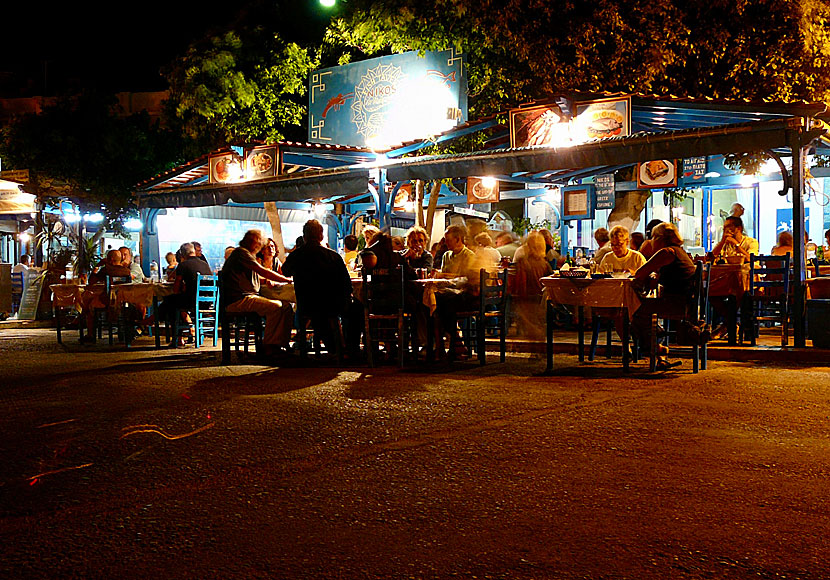 Nikos Taverna at the seafront is ours, and many others, favourite. The food is varied and excellent, the staff are both nice and entertaining, and it is relatively inexpensive. There is no menu at Nikos, instead you have to go out among the pots in the kitchen and see what is available for the day, and point out which dishes you want. Nikos wife Jenny are happy to assist and show one delicious dish after another. One usually will be seated for a long time at Nikos, usually longer than expected.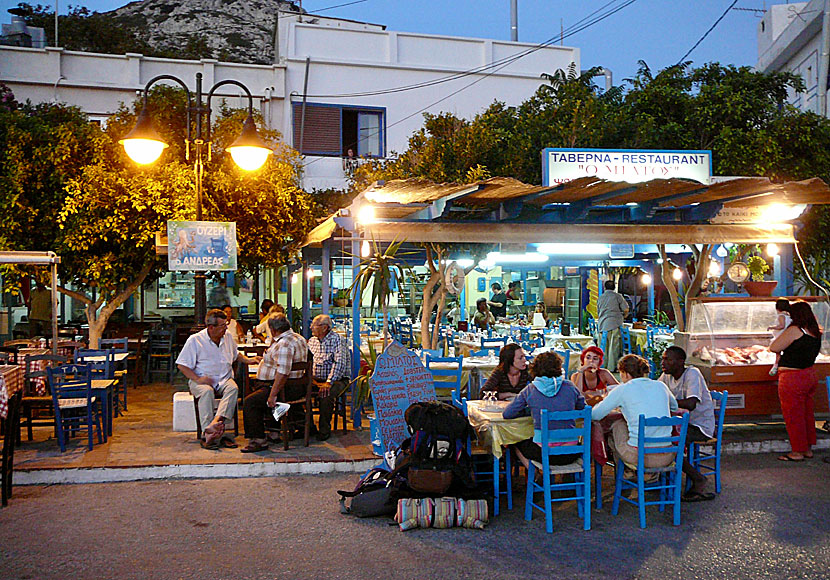 Of course there are other good restaurants, including Miltos fish taverna next to Nikos. Along the main street are a couple of tavernas with a perfect location for people-watching. Café Archontiko, left of Miltos, is a cosy place if you want a cup of coffee or a beer and people-watch. To the left of the small pier is a taverna and a café with tables directly in the sand. It is not a bad idea to sit there and watch as the sun sets behind Thymena.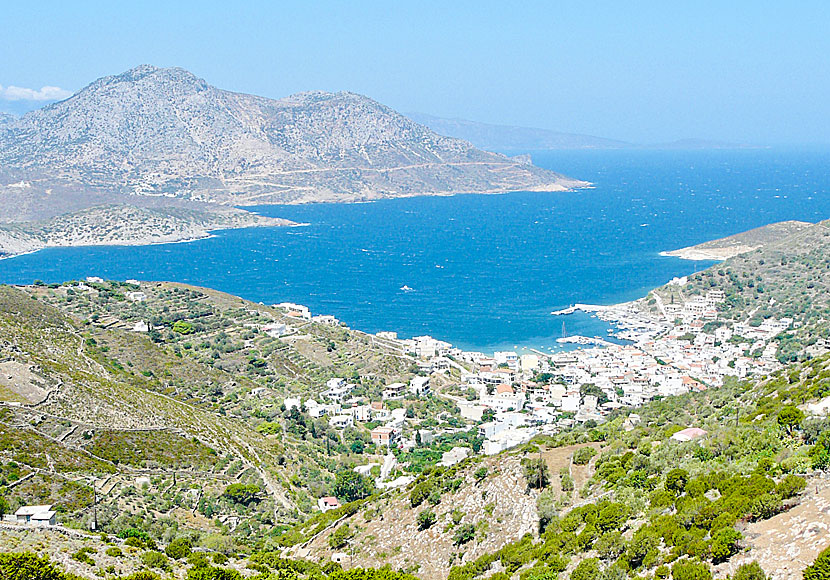 View of Fourni village.
The picture is taken from the road to Chrysomilia. Kambi Beach is located to the left (not visible in the picture) and the island Thymena is opposite.
If you want to try some different food, you have great opportunities to do it on Fourni. One of the tavernas might serve fuschka, pinna or sea urchins if you are lucky. I have only eaten fuschka on Lipsi, Kalymnos, Telendos and on Fourni. Fuschka is a tiny sponge-like ugly thing served raw with lemon, and it is eaten together with ouzo. Pinna looks like a giant clam and tastes much like clams, served in the same way as fuschka. The shells of Pinna is oval and very long and usually hang as decoration on tavernas.