Symi, northwest of Rhodes, belongs to the Dodecanese islands. It is a fairly small island; both to the surface and the number of residents. Here live about 2,590 people spread over three villages: Gialos, Chorio and Pedi. The surface is 58 km2 and the highest mountain - Vigla - measuring 616 meters above sea level.
Gialos in Symi is one of the Greek island's most beautiful villages.
Symi is especially famous for its beautiful port town Gialos which in form resembles a horseshoe. Gialos is one of the Greek island world's most beautiful villages and it daily attracts hordes of tourists from Rhodes. And it is Gialos which is the main attraction on Symi; the beaches are pretty mediocre and the scenery is wild and barren, and in my opinion not so beautiful. But it does not matter since Gialos alone is worth the trip here.
TRAVEL TO SYMI
From some countries it is possible to go on a package holiday. The airplane lands in Rhodes, from the airport a bus take you to Rhodes town and from there you continue by ferry to Symi. The boat trip takes between 1 ½ and 2 hours.
If you're travelling independently; go by air to Rhodes and take the first boat to Symi. You can choose between regular ferries or one of the many excursion boats that leave to Symi every morning from Mandraki Harbour in Rhodes town. There is no problem to buy one way tickets.
Book ferry tickets online here »
GETTING AROUND IN SYMI
Busses start out from Gialos to Pedi, via Chorio. Large parts of the island are inaccessible, which is the reason that most people go around by bathing boat instead of car or moped.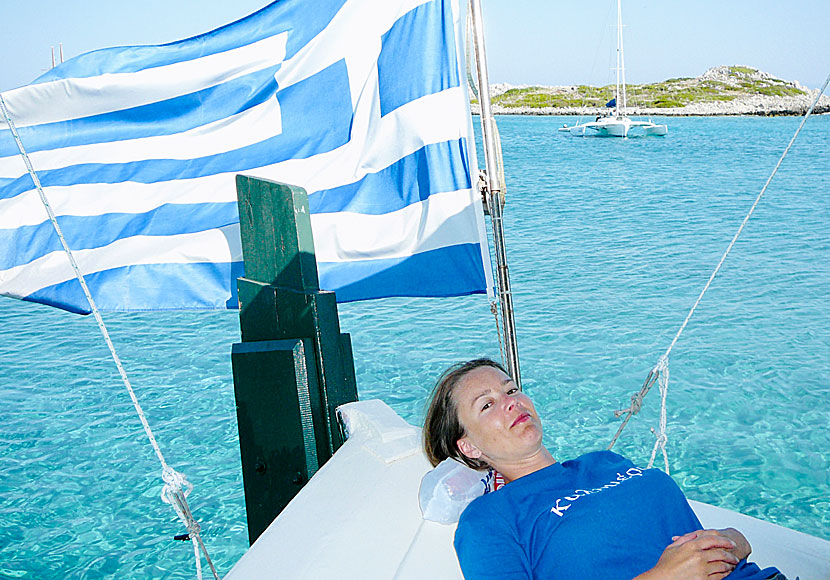 One of the excursion boats that goes around Symi.
Bathing boats to the beaches of Agia Marina, Agios Nikolaos, Nanou and Agios Georgios departs from the port of Gialos every morning. Agios Georgios lies at the foot of a high mountain and is one of the most beautifully situated beaches I have seen.
There are several excursion boats that depart daily to various inaccessible beaches around the island. The sightseeing usually includes lunch on a secluded beach. Information about the tours is available on the harbour promenade in Gialos.