You can read more about Agathonissi via the links below. A short summary of the information comes here:
To travel here is pretty easy, although it is not possible to go on a package holiday. The easiest way is to go by air to Samos, and travel on with the small car ferry Nisos Kalymnos that leaves from Pythagorion.
There are only three villages on Agathonissi: Agios Georgios (se picture on top of the page), Megalo Chorio and Mikro Chorio. Agios Georgios is the "centre" of the island, but most islanders lives in Megalo Chorio.
No one travels to Agathonissi for the beaches. There are only a few beaches, and they are good enough. The best beach is the beach in the port village of Agios Georgios. On the other side of the port bay lies a pebble beach called Spilia, which is okay. Below Megalo Chorio lies Poros beach which is one of the few sandy beaches.
No historical sights. However, there are no lack of meditative attractions, such as being seated in a taverna and look out over the sea and to enjoy the peace and quiet.
There are only a few pensions and rooms, but perfectly sufficient for the small number of tourists travelling to Agathonissi, except in high season when everything is pre-booked. As the number of rooms are so few, it is best to book ahead, no matter when you travels here. It can be fully booked even during low and mid season.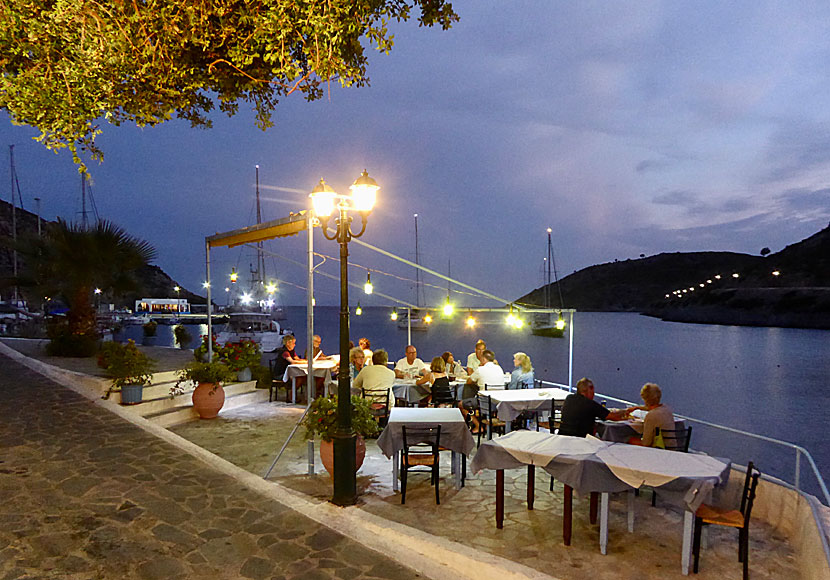 The evenings are absolutely gorgeous in Agathonissi, as here at Taverna Glaros in Agios Georgios.