Another favourite is Barba Stathis on the waterfront at the far left in the village. They also have tables in the alley leading to Hohlakas beach, the food is the same at both places, but the section that is on the waterfront is most pleasant. Barba Stathis serves mainly fish, and then we talk about fresh fish.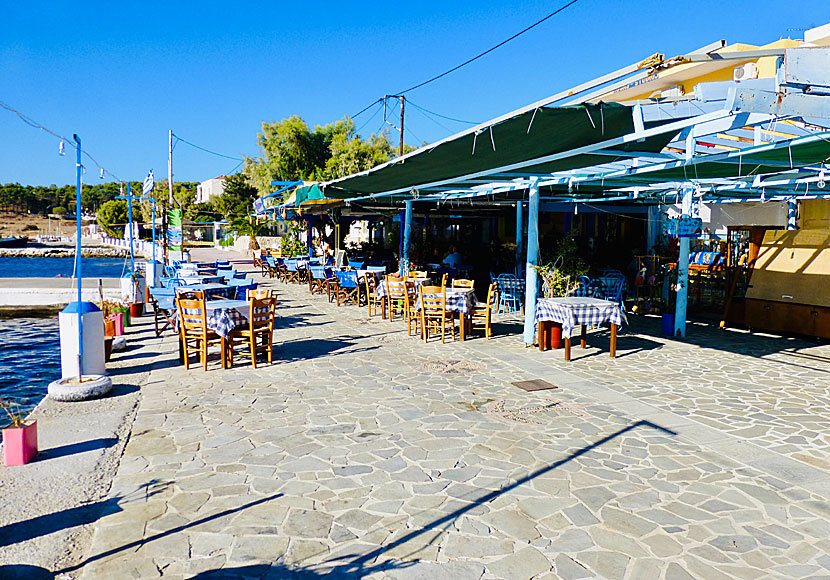 Restaurant Rita at the water front.
In my thought, the most pleasant taverna is Restaurant Rita located at the pier where the caïques berths. Restaurant Rita is for many a meeting-point, little like an adult day-care. Here, you can be seated for a long time and people watch, or play a game of tavli (Greek backgammon), or maybe read a book.
BEACHES IN TELENDOS
It's just as well that I mention it at once: the beaches on Telendos is far from some paradise beaches, but the sea is clear and clean, especially at Hohlakas beach. Most of the beaches consist of pebbles mixed with some sand, but there are beaches with sand, like the beach to the right of the village, in the direction of On The Rocks. Continuing after On The Rocks you will soon arrive to two small beaches. The last of them is called Paradise beach and it is the island's official nudist beach. The beach is tiny and it is crowded during peak season.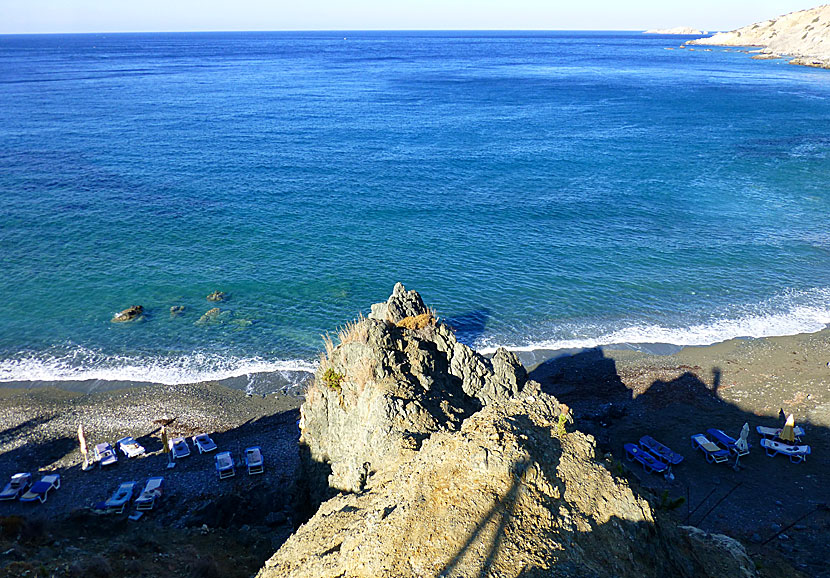 Hohlakas beach early in the morning.
Personally I prefer the two-piece Hohlakas (Cholakas) beach. You get there if you go to the left of the port, through the village, pass the church and walk up the hill. The water is lovely, there is excellent snorkelling opportunities and nice surroundings.
SIGHTS IN TELENDOS
No temples. No monasteries. No excavations. No museums. Telendos is exempt from "you-just-have-to-see-things." There is only some old church ruins and tombs, and a cute donkey named Odysseus. You find Odysseus in a small meadow on the left (nose towards land) of the village. He likes vegetables (preferably carrots) and fruit. If he notices that you are heading towards him to give him treats he yells of joy. He is really cute.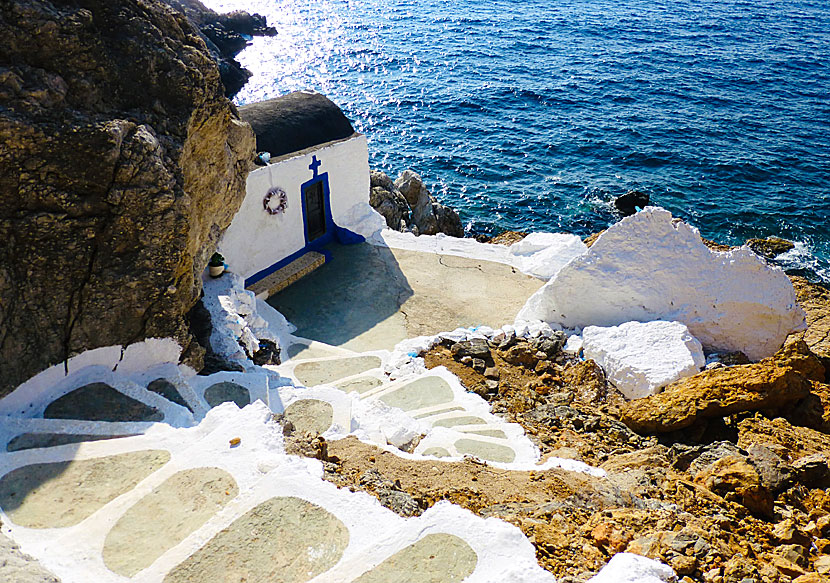 Agios Georgios church in Telendos.
If you like Greek churches I can recommend you to go to Agios Georgios church which is near Hohlakas beach. The small chapel would probably be Telendo's most visited and it is very beautiful.