VILLAGES
There is only one village, and it is small. What you see when you arrive by caïque is the village itself, it is not bigger than that. Here are a few tavernas and a couple of cafes. Furthermore, there are two mini markets and a beautiful light blue church. There are no streets, only some paths and a few alleys. You will quickly get a complete picture of the village. It is cosy, peaceful, enjoyable and quiet. In fact, Telendos along with Marathi off Lipsi, and Hydra, is the quietest island I have ever visited.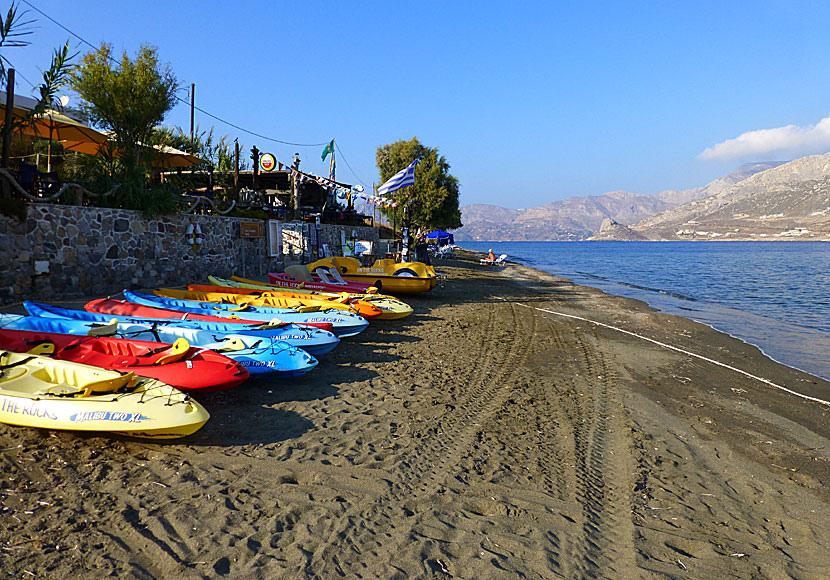 The "Village beach". Massouri and Myrties in the background.
As said, there are a number of tavernas and the difference between them is marginal. If you stay on Telendos you can try a new taverna every evening, after a week you have eaten at all of them, and may choose a favourite. I myself like the fish taverna To Kapsuli. Here you can be seated and eat right on the water's edge, and if you feel like it, you can dip your feet in the sea and chew on a skewer at the same time. It is that close. To Kapsuli is to the right in the village, if you have your nose towards Telendos. Further off to the right lies more tavernas, including On The Rocks, and they have rooms for rent as well.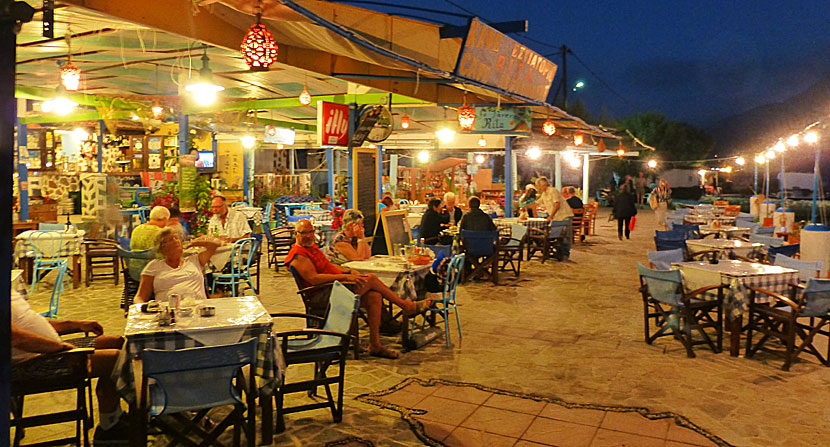 The evenings at Telendos are magical.
Another favourite is Barba Stathis on the waterfront at the far left in the village. They also have tables in the alley leading to Hohlakas beach, the food is the same at both places, but the section that is on the waterfront is most pleasant. Barba Stathis serves mainly fish, and then we talk about fresh fish.
In my thought, the most pleasant taverna is Restaurant Rita located at the pier where the caïques berths. Restaurant Rita is for many a meeting-point, little like an adult day-care. Here, you can be seated for a long time and people watch, or play a game of tavli (Greek backgammon), or maybe read a book. Yannis, who is serving, is one of the nicest Greek I have met.
Restaurant Rita at the water front.