I can not exactly put my finger on what it is, but Arki makes me feel melancholy, I get downhearted when I get here. Of course there are those who feels the opposite. On the ferry to Lipsi, I once met a guy who was on his way to Arki and he should stay there for three weeks. So there is something on Arki, but unfortunately, I have not found it.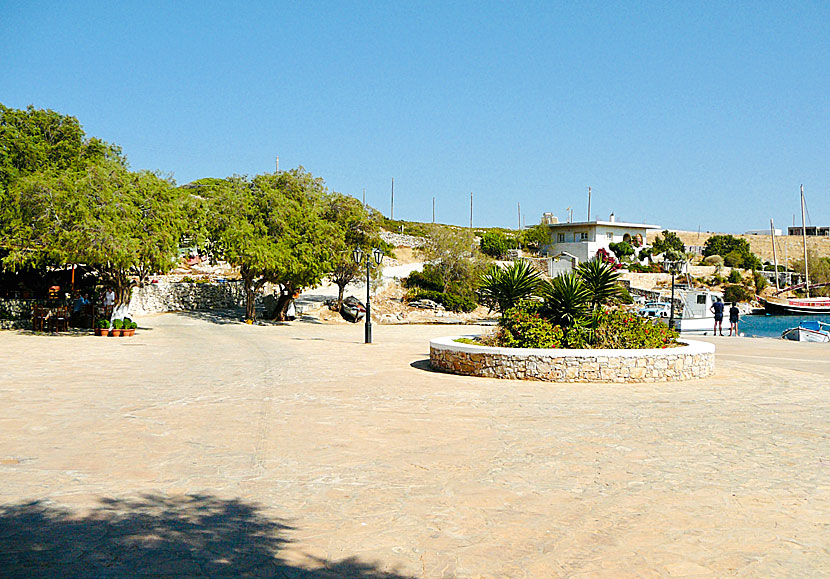 "The square" in Arki village.
TRAVEL TO ARKI
The easiest way is to go by air to Samos and continue the journey with Nisos Kalymnos that sails for Arki every other day all year round. Or go by excursion boat from Lipsi or Leros. Dodekanisos Seaways operates Arki a few days a week during the summer, and so do Leros Sea Ways.
Book ferry tickets online here »
GETTING AROUND IN ARKI
The only way to get around is on foot.
VILLAGES IN ARKI
There is only one village and it is perhaps not so surprising when you consider that only 50 people live on the island. Here are two tavernas, Trypas Taverna and Nikolas Taverna, one kiosk, one minimarket and a dozen houses randomly placed in a slope. After a few minutes, you have seen the whole show. In other words, it is nothing for those who like to stroll around in alleys and to go out shopping.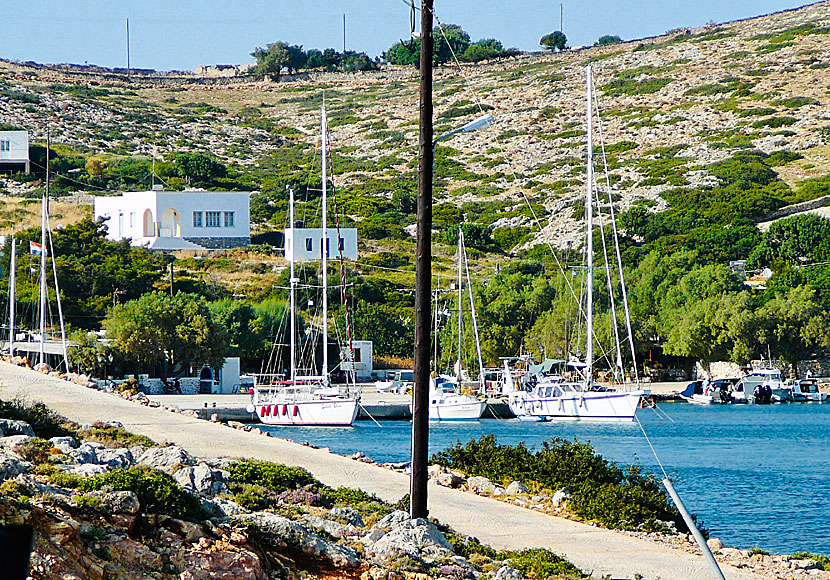 The small marina on Arki.
It is at the tavernas you spend much of your time on Arki. Here you eat your breakfast and your lunch, and it is also here you will spend the evenings. There is really nothing else to do. But what does it matter. If you go to Arki, it is unlikely that you want to paint the town red. To Arki you go to read books and to recover from the hectic everyday life at home.
BEACHES IN ARKI
There are few beaches on Arki, all are small and rather mediocre. To the right (nose towards the water) of the port are a couple of small beaches, which is okay if you just want to take a swim or to improve your tan.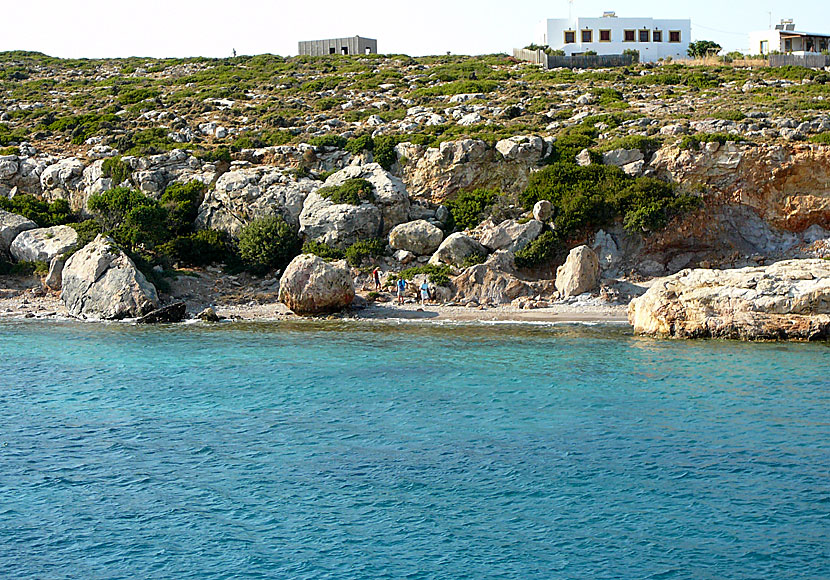 Small beach near the port.
The best place for a bathe on Arki lies as far south as south goes, Tiganakia bay - the place is called - is a lagoon-like bay with incredibly crystal clear water that shifts between sky blue and turquoise. If you did not know that Tiganakia was for real, you might as well think that it was a giant swimming pool.
It's a fantastic place and a paradise for swimmers that beats most I've experienced in Greece. You can walk here from Arki village, follow the concrete road and then follow the goat tracks to the south. When you see something big and blue in front of you, you know that you are there. :-) Are you travelling to Arki by excursion boat from Lipsi, you have about 30 minutes to splash around in Tiganakia bay.
SIGHTS IN ARKI
From the Church of Panagia, above the port, you will have lovely views of Arki and some of the neighbouring islands. That is the only thing that you could call a sight.
ACCOMODATION IN ARKI
As far as I know, there are only few places to stay at. Do you want to be on the safe side, it is best to book ahead to make a reservation.